Costume themes and costume-related group activities for grown-ups, kids, and mixed ages
Costume themes seem to exist because humans simply need to dress up in costume -- both for fun, education and serious ceremony.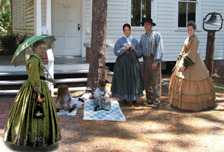 From the PBS historic drama watch-parties to ancient tribal raven dances, masquerades, costume balls, Halloween, 50s dances, religious re-enactments, and renaissance fairs -- they've all kept adults playing dress-up since time began.
And children just play dress up automatically (whereas adults need excuses). Some people want costume themes for group activities to replace Halloween, others just want costume-related group activities other times of the year, or to add a unique shine to the typical Halloween costume party.
Quick overview of great costume supply sources for all types of costumes year-round: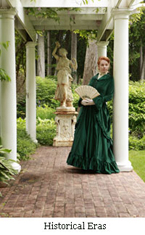 Shop an inexpensive year-round online costume supply store: We've affiliated with Costumes 4 Less because they have tons of costumes organized very well for easy searching, good prices, and other items like props and accessories.

Second hand stores are a blast: You'll find prom dresses, 40s men's hats and suits, aprons, straw hats, overalls... the list is endless. Many stockpile actual costumes and put them out near Halloween. If you live near a Value Village second hand store, they sometimes maintain a costume or vintage section all year.
Costume themes and methods to enjoy costumes as a fun group activity:
Make costumes and/or masks as a group activity: For adults, if the costume theme is vintage, IvaRose.com offers vintage patterns repurposed for modern crafters.

You can also visit the children's section in your public library for costume and mask-making instructions. As one example, the book "Super Masks & Fun Face Painting" gives directions for Thai theater masks, ancient ceremony masks, Egyptian masks, sun masks, masquerade and various animal masks.
For easier projects for younger kids, Oriental Trading Company offers bulk blank half-masks, crowns, fans, Olympics-style medals, bandanas, adventurist's hats, and warrior's shields that kids can decorate themselves.

The harvest party dress-up trunk for year-round fun for kids. Find a large, old suitcase or great big tub that becomes the home or classroom's official dress-up trunk. Then enjoy hunting through second hand stores for items to fill it up with. On a regular basis, as mentioned, you'll find a huge variety including mailman shirts, sailor hats, aprons, graduation gowns and caps, sparkly shoes, sequined party dresses, prom and bride's maid dresses, sunhats, 40s and 50s-look women's and men's hats, men's dress jackets, ties, tacky costume jewelry, leis and Hawaiian mumus, cowboy hats and cowboy boots, and so much more.

Clean them and fill your dress-up trunk for an autumn Halloween or harvest party to be found treasure hunt style. Then leave the trunk available for regular imaginative play for the rest of the year. Shop throughout the year and hide your findings until the next harvest party when you restock the dress-up trunk with new surprises.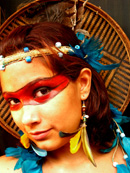 Hold a face painting party. Be sure to use paint meant for skin. Though some paint is labeled non-toxic and safe for kids, there is apparently a difference between non-toxic paint meant for paper, and paint meant to safely apply to human skin. Here's a good face painting book we've affiliated with: Face Painting Made Easy. Face painting can be used to enhance costumes, or even be part of the activities at a party or festival.

The mystery party. These became popular just as the last century turned and are still going strong. A game is purchased that tells the story of a murder mystery that takes place during a certain era (some are modern), and each guest is assigned a pre-determined character which may or may not be the murderer. This determines the costume themes to be worn during the party. Guests dress up like their character and essentially become that character for the night. Questions are asked and guests try to guess who the murderer is. Search for Murder Mystery Games online. While they used to be purchased from game stores, today some are downloadable.

The at-home movie, dinner and dress-up evening for adults. A group of my relatives recently enjoyed a gathering to watch the old movie "Arsenic and Old Lace." They dressed as 40s characters and served food related to the era and movie. You can copy this idea for any movie of a past era, even with an evening of old re-runs if you have a retro station or rent old detective or Leave it to Beaver shows. Ward's briefcase and June's pearls, high heels and housedress are just waiting to be rediscovered. Or, choose a more modern science fiction or movie based in a foreign country that allows fun costume themes.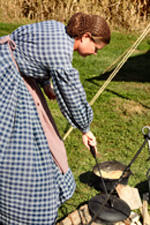 Adult novel/book club costume theme celebration. Follow the same activity as above only after reading a novel as a group, gather afterwards to re-enact or role play. We did this as an intergenerational group after reading Mark Twain stories, then held a picnic wearing overalls, pinafores, straw hats, and playing old-time games like kick the can and marbles.
Younger kids' storybook or movie version. For younger kids, adapt the above movie or novel costume themes to allow them to feed their imaginations. First read the storybook or have them watch a kids' movie or kids' reruns ("Little House on the Prairie, American Girls, The Forgotten Door," various fairy tales).

Then right afterwards, simply provide them with raw material for dress-up similar to the storybook or kids' movie theme. You won't even need to provide a "project" related to the story. Their imaginations will take over. You can actually provide real costumes, but also include old sheets, ribbons, story related props (Laura's tin pails, American Girl's baskets, Peter Rabbit's tea cups, Miss Muffet's spider, Dorothy's ruby slippers) and pieces of fabric that allow them to create from their imaginations inspired by the story.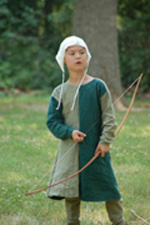 Be someone else for the day with a group of friends. (For adults or older kids). Go to a public place with a group of friends: A zoo, out for lunch, a museum, a park, a baseball or basketball game, and dress as different everyday modern folks. People have so much fun doing this. Some pretend they're career people with careers far different from their own, such as fashion designers, athletes, intellectuals, truck drivers, or are from a foreign country. Others just pretend they're anyone but who they really are.
With today's cheap fashion glasses, temporary hair color and second-hand stores, this should be fun and easy to pull off. (Just make sure you're legal and not harming innocent people in any way! As just a few examples, you can't legally pretend you're a journalist to get free entry into an event, nor impersonate a specific living person and harm their reputation, nor impersonate an authority officer).
If you just need to brainstorm costume themes, here's a list to get you started. (The hyperlinks all merely take you to the home page of Great Group Activities.)

- Murder by Death (movie) characters
- A Christmas Story (movie) characters
- Western (cowboys, sun bonnets, bandanas, sheriffs)
- Historic/intage America (pioneers, colonial, roaring 20s, 30s, 40s, 50s, 60s hippies, 70s disco, 80s)
- Gone with the Wind characters

- Irish (hire a bagpipe player, Irish dancers who help guests learn steps, or Celtic storyteller)

- Thanksgiving pilgrim and Native American

- Marco Polo (costume themes such as sailors, tourists, explorers, sea captains)

- Anne of Green Gables (movie) characters

- Native American potlatch or pow-pow

- City workers/laborers (fire fighters, construction workers, engineers)

- Jungle people (Tarzan/Jane, Jungle Book)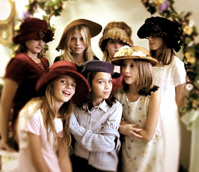 Other fun costume theme activities

- Set up a photo booth area. Most people today have their own cell phone cameras and will want spontaneous shots. But set aside one area with great background props and good lighting for people to take well-posed shots. Then, if possible, have someone there with a higher resolution digital camera for those who want shots for better quality enlargements. If your costume event is a community fair, this photo area can even be a paid service offering posters or mock magazine cover enlargements.
- Organize an informal neighborhood parade for everyone in costume.
- Invite or hire local theater or high school/community college actors or a local band to come dressed according to your costume theme group activity and put on a short skit or play appropriate music.
---
You may also enjoy our Historic Costumes page

Custom Search