The chefs' school that partners with local farms
by Amy Rose
Copyright National Lilac Publishing, LLC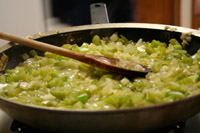 Are you among one of these:
Seeking a progressive chefs school?
Want to make your chef business green and trendy?
A local eco-farmer looking for more success?
(Or all three)?
When chefs, chef schools and micro eco-farms join forces, they become part of a growing success trend in the culinary arts.
The trend is the farm-to-chef movement, which means several things to chefs and eco-farmers:
For one, some aspiring micro farmers (or upgrading current farmers) attend a chefs' school to see what they can apply to their farm business. Or, they start cooking and chef schools on their farms, which helps increase farm profit as part of the food vacation agritourism trend.
Some chef-farmers are connecting to the trend without formal training from chef schools and are instead learning new information from their cooperative extension service (see below).
As described in the story of the rare pepper micro farmer in the book Micro Eco-Farming, the smaller eco-farm is able to custom grow varieties and adapt to trends and requests quickly, while at the same time holding onto stable profit-earning crops. And they satisfy customers seeking green stewardship of their purchases.
Aspiring chefs seeking farm-to-chef or green chef schools:
The Farm-to-Chef trend is infiltrating the culinary arts from New York to the West Coast. Upscale chefs are cooking far differently than they did only a decade ago, and there are specific buzz words to seek when looking into a chefs' school that's on top of this trend.
The popular chefs appear to be those who blend world cuisine with local culinary traditions, and will connect with local eco-farmers for many of their ingredients. In some cases, micro eco-farmers may choose to custom-grow crops exclusively as per the choices of the chef. In other cases, chefs or chef schools will be starting micro eco-farms of their own and hiring farmers. In yet other cases, the chefs themselves are becoming farmers also, in their backyards, on the grounds of their culinary destination, or as with the new trend of chefs with rural property starting on-farm chef schools.
Aspiring chefs seeking the perfect chefs' school need to seek culinary institutions and workshops that promise in their curriculum to actually visit local small organic and sustainable farms and teach how to spot the best ingredients on the vine.

Find a chefs' school that offers cooking classes and culinary courses on cooking with fresh, local ingredients. And even better, look for chef schools that teach how to work directly with the farmers, as this can help your chef business amazingly.
Adam, the farmer of Nettles Farm in Washington State, goes over seed catalogs regularly with the chefs he provides for. They look closely at newly discovered heirlooms, rare edible flowers, recently offered herbs, and find outstanding eco-ingredients to impress the restaurant customers and also let them know the ingredients are grown in a manner that sustains the environment and are provided locally.
For the chefs, chefs' school and micro eco-farmer alike:
Contact your local cooperative extension agent and find out if they have a Farm to Chef program. These workshops help chefs learn how farmers think, and help farmers learn how chefs think. They may connect chefs with micro farming partners who can mutually create lucrative tourist chef experiences or on-farm chef schools as described below.
For aspiring or upgrading micro eco-farmers inclined towards producing for the culinary arts:
You can work with chefs, chef schools or even fulfill old desires to be a chef in the following ways:
Connect with regional chefs and provide on-farm tours to chefs, working directly with them to grow what they specifically ask for. As one example, one chef had a vision of yellow and red combined on his plate, and eventually specifically requested red and yellow pear cherry tomatoes.

Connect with the actual chef schools themselves to become one of the school's field trip providers and a location for them to teach on-site workshops.

Offer casual on-farm culinary workshops for restaurant chefs, personal chefs and hobby chefs.

Attend chef schools or chef workshops yourself (on-farm chef schools or regular institutions), then start more formal chef schools and workshops on your own farm. A farm in Washington State has done just that. (See Chefs on the Farm for their story). Another Oregon chef started a micro eco-farm and now teaches culinary arts on his own six acres.

The book, The New Agritourism: Hosting Community and Tourists on Your Farm dedicates areas to the topics of blending chefs, education and eco-farms, and describes how the chef/farmer can even offer CEUs (Continuing Education Units) to professional chefs or students of chef schools seeking the continued classes they need to keep up with their required qualifications.
---
You may also be interested in Starting a Home Food Based Business

Custom Search