Here are our all-time favorite ideas for great block parties
Copyright National Lilac Publishing, LLC

- Suggest a local food potluck for your block parties.

- Choose different ethnic cuisines for each year's party.

- Call the fire department to see if you can schedule a fire truck visit. They often enjoy visiting neighborhood parties, obviously leaving in hurry if they get an emergency call.

- Have a neighborhood scavenger hunt or treasure hunt.

- Choose a different era to dress up as each year. If that's too elaborate for your neighborhood gathering, choose food and music of a certain era or culture to emphasize.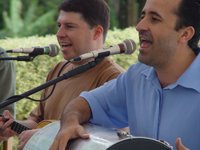 - Karaoke and/or talent shows are classics at neighborhood parties.

- Turn it into a cooperative work party for putting up holiday decorations (instead of competition), beautifying with annual flowers, or assembling and hanging birdfeeders – one for each neighbor's house.

- Set up an old fashioned artisan soda fountain.

- Set up a cookie decorating area.

- Set up a gourmet/herbal tea tasting table.

- Organize a neighborhood mini-Olympics.

- If you're going to have a traditional block party barbecue, this affiliate link leads to a downloadable book on competition barbecue how-tos.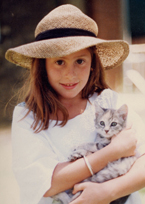 - Set up your block party's own photo booth area, perhaps with funny hats and a sign that tells what year the block party was held.

- Set up activity centers (lawn games, checkers, backgammon, hula hooping, jumprope).

- Make homemade ice cream as a neighborhood activity.

- If there are enough very young kids, let them put on a parade with a chosen parade theme (bugs, zoo animals, 4th of July, etc.). It's cooperative rather than competitive, and kids love the attention and challenge.

- Hire a guitarist with experience hosting a folk-song sing-along.
- Make customized neighborhood badges for all ages to wear, and as a souvenir to remember past block parties.

- Have a Stone soup party (outdoor cooking).

- See if someone with a large yard will host a backyard movie.

- Encourage the entire neighborhood to do backyard camping with a neighborhood street brunch the next morning (permits are sometimes  needed to close off streets for certain group activities).
---
Custom Search