Bird activities around the Fidalgo Island/Anacortes area

The bird activities both locally and regionally are abundant, as are the birds in this lush evergreen, seawater, freshwater filled environment. Fidalgo and the surrounding San Juan and other islands, as well as the Skagit Valley and river across the bridge, are the habitat for swarms of residential and migratory birds.


And there are many great group activities focusing on birdwatching and other bird activities.
To the right are snowgeese in flight (there's another photo of them below).
Our huge bird population nests and feasts in and around our lakes, marshes, rivers, sea, woods, fields, and certainly at our birdfeeders! The brightly colored Rufus hummingbirds show up usually around March, but year-round, the Anna's hummingbird is a permanent resident and frequents winter hummingbird feeders.

Washington State's state bird is the goldfinch, with the boys being so bright yellow they're sometimes called the wild canary. Kind of a misnomer being as though all canaries started out wild and most of them still are. Maybe "temperate canary" would be a more respectful and accurate name. They love coming to our birdfeeders, and it's always so exciting to see the first ones arrive in spring.
Skagit Eagle Festival: I took this photo of the bald eagle right on the beach on Fidalgo Island about 5 minutes from my home where we see them year round. But each year massive numbers of bald eagles gather for a winter feast and holiday along the Skagit River across the bridge from our island. The winter temps are mild in this area and salmon are spawning. The eagles arrive starting in November and numbers peak around January.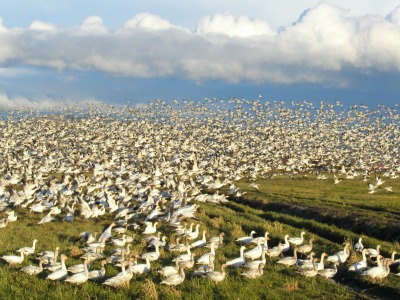 Port Susan Snow Goose & Birding Festival: Then in February, the valley holds a great bird activity -- a festival of outings, activities and celebration of our migratory birds, especially the snowgeese that arrive here for the winter from Siberia and other colder areas.

Huge trumpeter swans also arrive in the valley about the same time. It's not unusual to see people pulled over to the side of the road to view and photograph these birds. They let you photograph them as long as you don't get too close. Bring a camera with a good zoom lens!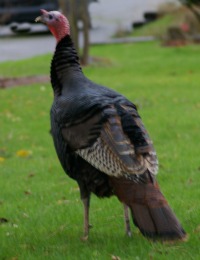 Audubon bird activities: Fidalgo Island is, well, an island with the same geographical conditions as the San Juan Islands. The Skagit valley just over the bridge has yet a different natural environment than our islands. Yet Fidalgo Island is technically a part of Skagit County rather than San Juan County. (Wild turkey to the left. They used to wander into the nearby town of La Conner until their populations became too much of a problem for the town people. They've since been relocated to a Christmas tree farm nearby.)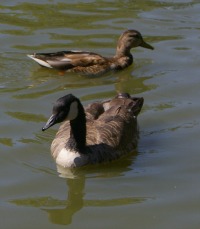 So we sit sort of in the middle of two Audubon chapters -- San Juan and Skagit -- which sponsor ongoing field trips, hiking gatherings, and other great group bird activities. The San Juan group has been successful in reintroducing the Western bluebird back onto the islands. It was once abundant, and when its favored habitat changed, its numbers shrunk. But by reintroducing birdhouses and other measures, it has returned. They are apparently on Whidbey Island now also. I haven't yet spotted them on Fidalgo Island, but hope to, seeing as though we're so close to Whidbey. 
Here's a link to The Great Washington State Birding Trail.

Friends of the Forest activities: This group is all our own, a Fidalgo (and Guemes) Island program branch of our local government. They lead guided hikes through our protected forests, and while the hikes include information and sightings of all fauna and flora of the region, birds are usually part of the package. The red winged blackbird shown here is enjoying the cattails on one of our freshwater lakes.

Various birdhouse workshops: There is not one specific location, but between our library which holds regular community events, our farmers' market events, local arts community, and local gardening clubs, there are occasional birdhouse building workshops and gatherings on and near Fidalgo Island.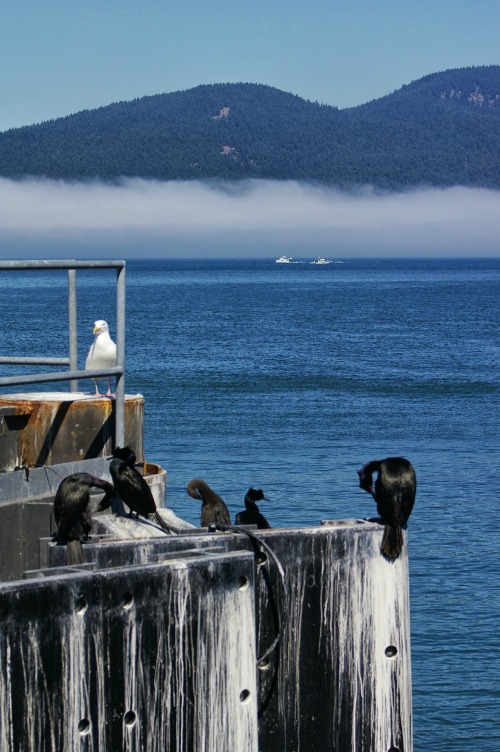 Riding the ferries to enjoy sea birds: These cormorants preen themselves under the watchful eye of a seagull. This shot was taken from the ferryboat while departing from Anacortes out to the San Juan Islands.

---
Return from Bird Activities on and Near Fidalgo to Living in Anacortes, WA

Custom Search