Favorite Anacortes walks
Photos and text Copyright National Lilac Publishing, LLC

Taking all the beautiful walks in Anacortes and Fidalgo Island could take a lifetime. The walking destinations are immense and very diverse. You can go deep, deep into the woods on forest trails (some crossing over from walking to hiking) and neither hear nor see any sign of civilization unless sky travel flies overhead. Or, you can take a walk on wide trails paved for walkers and bicyclists with island and water views that literally rival the best of the best. Walks in Anacortes also include the more bustling waterfront where there's often music, art and boating activities especially in the summer, or even just the country roads or old town neighborhoods where many of the original Victorian homes still stand. I'll start with the Tommy Thompson trail and add more favorites as I get photos to upload.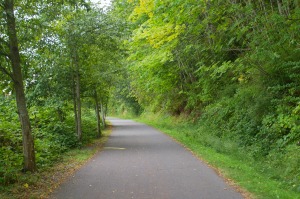 Tommy Thompson Trail: The trailhead for this walk starts at the east end of 34th Street. The path is wide and the entire walk is very flat for those who want to avoid hills. Walking this favorite Anacortes walk, you will pass all ages, from dad's on bikes slowly taking their tiny daughters on their first bike ride -- stopping to pick blackberries along the way -- to serious adult joggers and older folks strolling and stopping to take in the scenes at some of the various benches along the way. Part of the walk has woodlands on both sides as in the photo above.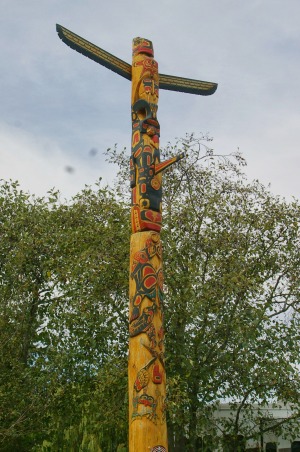 On this walking/jogging/biking trail, you pass through Native American land and can see the totem pole they erected in honor of some workers who passed away, and their families. My husband and I enjoyed watching this pole's unveiling ceremony.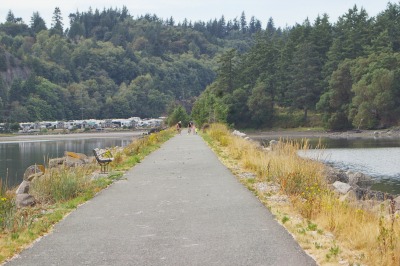 The above photo is a favorite part of the walk for me, with salt water on either side of the path. The Tommy Thompson trail follows the abandoned old Burlington Northern Railway.

---
"The Loop" at Washington Park: Within the Anacortes city limits, this walk is a one-way loop where cars may drive only in one direction, with speed bumps to keep their driving at a very slow pace. This makes it very pedestrian-friendly and it's a very popular walk for both locals and visitors alike. There is a pretty serious ascent, so it's a good fitness walk as well. The three photos below show off some of its stunning views.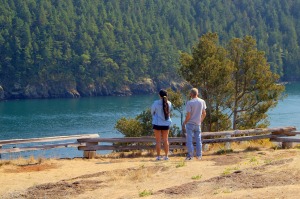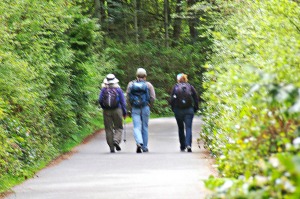 ---
The trail at Bowman Bay: The three photos below are some of the magnificent views seen on the trail hike/walk going south once parked at Bowman Bay. At this writing, parking either takes a parking permit which locals buy annually, or there's a $10 fee. Be sure to double check, but at one time it appeared they were allowing free parking on at least some Saturdays.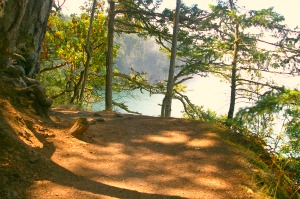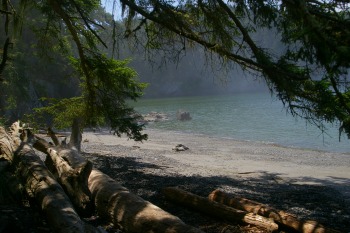 Next:

- The bustling waterfront walk
- The Guemes Channel trail -- an island-wide effort to create a cross-island walking path
- Walks along Fidalgo Island country roads
- Old town neighborhood walks in Anacortes
- Deep forest walks

---
Return to the Living in Anacortes Hub
You may also enjoy our article on starting or enhancing a walking club

---
Custom Search