Anacortes, WA -- My hometown of many years!
Ah-ah-ah, my hometown of Anacortes, WA! (See a great video of this town at the bottom of the page). I've loved living in what some call Anacortes Island for years -- even though 'Anacortes Island' doesn't exist! The town of Anacortes itself is on two beautiful islands, but the town is just called Anacortes (not Anacortes Island). Fidalgo Island and Guemes Island are the names of the islands themselves.

Most of Anacortes is on Fidalgo Island. As it spreads north to rural areas, the address of Anacortes, WA also extends to the lesser-known island of Guemes.

I feel blessed that the Great Group Activities company which hosts and copyrights this hub has chosen to explore small town living, and that I can share life in my small town of Anacortes (which of course is loaded with great group activites!)

The photo above is the lake down the hill from where I live in rural Anacortes on Fidalgo Island. The main part of the little city of Anacortes, including most of its houses, being nestled on Fidalgo Island, is accessible from the mainland by bridge. Once here, island hoppers can either make their way to the Anacortes Ferries which take riders out to the San Juan Islands and Vancouver Island in Canada, or they can take the much smaller ferry to Guemes Islalnd.
Some also think it's called Anacortes Harbor and even Port Anacortes. Well it certainly is a homeport for many surrounding islands. In many ways, too, it can be felt as a safe harbor.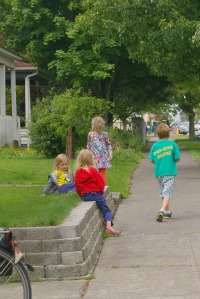 So why is Anacortes, WA my chosen hometown? Back in the mid-80s, I'd spent a year searching for specific qualities I'll share below that made what so many call Anacortes Island the best small town for me. It continues to enchant me. Not only the natural beauty, but the inspired community, the smallness of the tucked away town along with proximity to vast natural wonders as well as not-too-distant vibrant metropolitan areas.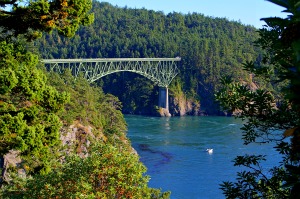 Main reasons I love living in Anacortes, WA:

Real island living with drive-on convenience. I wanted to feel like I was living on an island, but to be able to hop in a car and get to the mainland at will. In Anacortes, there's a bridge that takes you from the mainland to our little island world. Plus, another bridge (seen in the photo here) links our island to Whidbey Island. And living here really does feel like being on an island -- because it is! The Salish sea and views of ships, sailboats, harbor seals, ferryboats, and all the surrounding islands are everyday sites around many corners. Beaches and marinas are all around us. Fresh seafood restaurants, a scuba diving shop, whale watching businesses, and festivals related to the sea are common.

Natural wonders on our own Fidalgo Island. I grew up in a desert, so when I first came to Anacortes and Fidalgo Island, I could hardly believe how I'd look out my car window to see forests surrounding lakes abloom with water lilies, enticing trails leading into the forests. In Anacortes, I discovered the citizens protect their forest lands unlike any place I'd ever discovered. Some trails are also designated for horseback riders. Volunteers gather to groom the trails and there are regular guided forest walks for all ages. I soon came to love canoeing or going out on the lakes in little row boats.

Some lakes are for boating, fishing and swimming. One lake surrounded by forest is only for fishing without use of motors. One seems to be going through a natural evolution of changing from lake to swampland and eventually to hidden meadow surrounded by forest trees.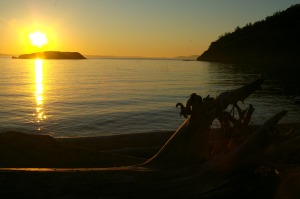 But the saltwater beaches are also stunning. The photo to the right is one my husband took in late summer. Some beaches are rugged and wild, and some more groomed and even have paved trails. A favorite place for walkers and joggers is the "loop" at Washington Park. Vista after vista looks out over shimmering waters, boats and distant islands.


Anacortes continues to be chosen in Yachting Magazine's list of the 50 Best Towns for Boating, including the year of this writing. There are many places to launch your own boat -- from yachts to kayaks -- if that's your pleasure. (I never owned my own boat except for a little row boat for freshwater, and I rent canoes. But have driven sailboats and boated on larger vessels with friends.)
Non-boaters, though, get plenty of beach time just by living here. As far as beach exploration right on our own Fidalgo Island, it's hard to choose a favorite beach to enjoy because there are so many beauties -- but I suppose mine, which is a three minute drive from my house, is on Bowman Bay. Once there, a short hike with views of water and islands amidst the evergreens and red-barked knarly Madrona trees takes you to a small sandy beach where I've spent many hours with friends, family, and often just on my own.

And then there's the top of our own Mt. Erie. Some people hike to the top, but you can also drive. Rock climbing is very popular on this mountain. On a clear day, you can see views that rival anything in Europe (and I've been to some of the most beautiful places there including the Swiss Alps and French countryside), sometimes you can see all the way up to Canada. It's also favorite mountain for learning how to mountain climb.


Canopy climbing (recreational tree climbing of our ancient trees up to 300 feet high!) Canopy climbing is just minutes away from Anacortes. Is it adrenal rush like no other, or is it the most grounding meditative sense of belonging to nature you've ever experienced? I'd say it combines them both. Kind of like chocolate's stimulating taste and aroma combine with with the sweetness of the sugar added. Possibly addictive, but consider yourself warned.

Inspired community. Small towns like my Washington State island town of Anacortes can look sleepy from the outside -- but there is a vibrant community with great group activities happening beneath the non-existent neon. The range is huge, from live theater to sailing lessons. There is so much to do here socially and culturally that it isn't unusual during the times when I feel like just staying home by the fireside or taking a summer beach walk by myself, that I'm turning down multiple social and cultural events at the same time. For the most part, the activities are the kind where you can choose to just show up on your own or with a partner or friends.

There's a great old historic building downtown -- it's huge with three stories. Up on the third floor there's an old ballroom occupied by the Anacortes Happiness Center. Here they hold cozy little concerts, craft gatherings, yoga classes, couch chats with naturopathic doctors, spiritual workshops, Ballroom, Nia and other dance classes. Plus, they combine their group activities with others outside the center. For example, some people had extra figs growing in their yard. So they set up a day of picking figs, then going back to the Center to learn to prepare and serve them.
The "Happiness Sprinkling Project" now across North America and starting to take place in other countries started and is headquartered right here in Anacortes! Laura, the founder of the Happiness Center described above, had the idea and organized it in our home town. It was so uplifting and enjoyable that she and others associated with the center who lived or traveled in other areas of North America joined in. Below is a video of this great group activity taking place in nearby Victoria, B. C.
-----
Every first Friday, the downtown area stays open late and we have an art/workshop walk. There are a number of art studios downtown, and the merchants put out snacks and sparkly, and after having lived here for a while, you almost always see people you know when you attend these. At Christmas, there's a Christmas tree lighting on that night and often carolers and local authors and crafters selling their wares.

We have a very active camera club. Lots of members of both genders. In the winter we gather upstairs above one of Anacortes, WA's independent pizza parlors and do a photo show where we share up to 10 of our favorite photos of the year.



Sports: Bicycling is very popular in Anacortes and the surrounding islands and mainland valley across the bridge. People of all ages and both genders are involved in the local and active Parks and Recreation here. Just as a couple of examples, they host soccer camps and offer adult drop in basketball that goes on year-round. We have a great indoor swimming pool for lap and family swimming. I'm such a slow swimmer I've found the best time for me to swim laps two days a week is in the later morning when it's quite quiet there. The swimmers who are speedier than me (which is just about everyone) often come earlier.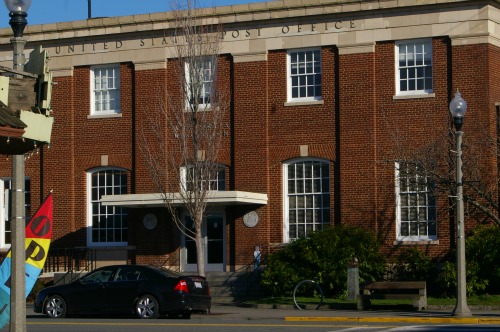 Nightlife and daylife: There are many little public places to gather. Three favorites are locally owned Cafe Adrift that offers very delicious and unique selections using local and organic when possible.
Even the A&W-ish type drive-in offers meals with real crab -- not artificial -- how's that for a seaside small town drive-in? Rockfish Grill has a long-standing micro-brewery, a quite serious food menu from which I always order their woodfired pizza, and they bring in sometimes quite well-known musicians. On Fridays and Saturdays, you can walk between the Rockfish and other pubs to take in a variety of music. We also have an Anthony's -- waterfront fine dining with spectacular water views.
That's just a sample, there are many others including coffee shops and other waterfront seafood fine dining.

Sorry to be so biased about the library of Anacortes, Washington, but I think we have the prettiest library anywhere. I've seen quaint tiny ones in even smaller towns which were charming, as well as the huge Seattle public library. But ours is small town yet inspired. It has two levels with a very pretty staircase that leads to a cozy reading place with a fireplace. There's a colorful children's section downstairs that offers various kids' programs. They offer book clubs and bring in authors to speak quite often. I'm not into jazz, but every Sunday they offer free live jazz in a separate room that many people look forward to.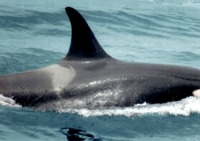 Wildlife, birding and fishing. My dad was an avid fisherman. Being a bit squeamish about killing things, I never really caught on to fishing as a sport myself. But my son would walk down to our nearest lake, fish for hours sometimes, bring home his catch and clean and eat it on the spot. Some of the lakes also have crawdads. I've enjoyed a crawdad feast after some neighbors caught them at Little Cranberry Lake.

As far as saltwater fishing, I see folks crabbing or fishing along the docks and beaches while I'm hiking. And of course, living on a saltwater island, there is active saltwater fishing out in the surrounding sea as well. Plus, there are charter boats that take folks out for salmon fishing and other sea adventures.
I've had many Anacortes island fellow citizens inviting me to crab feasts after spending the day crabbing and boating. One particularly fun day, they put their crab pots out at sea, picked me up at a quaint little time-forgotten marina (Cornett Bay right across the bridge that connects Fidalgo Island to Whidbey Island), and we spent the sunny, warm summer day boating through various spots including the nearby tiny artist/fishing village of La Conner. We docked the boat, shopped and ate lunch along the water, then returned later for the crabs, and there was a great crab feast that night.

Whale watching tours go right out of Anacortes. And on occasion while hiking near the beaches, if you see excited people rushing to the edge of the water and pointing -- they're most likely seeing a pod of whales pass through.

The birding on and near Anacortes and Fidalgo Island is incredible. The huge Alaskan trumpeter swans and northern snowgeese come to the valley near Anacortes' island November through March. A traditional drive down to Seattle for Thanksgiving with family always meant slowing down to see the swarms of snowgeese and smaller flocks of swans in the many green farm fields we pass before getting to the freeway. The farmers plant soil-improving winter cover crops that are also good food for these wild birds, who pay them back by further fertilizing the ground for the farmers' next planting season.


Fidalgo Island has a year-round native hummingbird -- Anna's Hummingbird. Plus the bright Rufus hummers return from the tropics each spring. And there are so many others: bald eagles, kingfishers, comorants, mallards, great blue herons, "wild canary" gold finches, ravens, plus there's an effort to return Western bluebirds to the islands where they once flourished.
Second home/retirement. If you want, you can enjoy living in Anacortes, Washington without plugging in to the local community. People have second or vacation homes here where they spend several months of the year enjoying the privacy of their spreads with spectacular views of the Salish Sea. Some of these people are world travelers who want a getaway USA town to come home to, one that's "away" yet also accessible enough to other worldwide travel destinations (see more about these below).
A wealthy friend who was almost relocated to Anacortes provided the opportunity for me to see some of the kinds of homes that many of us here never see. Some high on cliffs in seclusion with maids' quarters, and some, like the late actor and singer Burl Ives who made Anacortes, WA his adopted hometown, are in slightly visible but in protected areas that also offer lots of privacy with views to die for. You have all the essentials plus a few luxury amenities you need close by if you do need something from a town -- massage therapists galore, classy salons, post office, progressive grocery stores, repair and cleaning services, vets, hospital, theater, art galleries, custom home designers, fine dining and so on.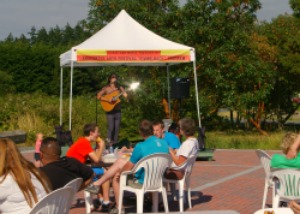 The local eco-farming community. Anacortes has a very active farmers' market on Saturdays and Wednesdays seasonally, and they also hold a winter market close to some of the winter holidays. I LOVE the location of our farmers market. It has the town square feeling, next to a remarkable grove of madrona trees. It's at what we call the depot -- which is a real depot built back when they thought a main railroad would lead to Anacortes, WA instead of Tacoma, WA. Now it's a hub for various group activities. The cobbled streets lead to an antique steam ship you can tour sometimes, which further leads to a beautiful walk along the boat and ship filled marina.

The farmers market itself offers entertainment and locally baked and cooked lunches, along with fresh produce (herbs, tomatoes, peaches, lettuces, brightly colored carrots -- and on and on), artisan cheeses, homebaked breads and cookies, freshly caught seafood and grass fed and finished meats and eggs. They have lunchtime local entertainment and more craft vendors than some farmers markets do. Plus things like handcrafted soaps and gourmet doggie treats.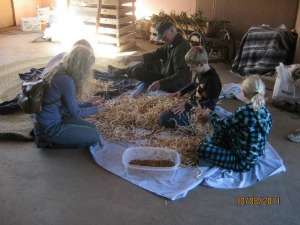 Further, at this writing, we have our own CSA -- Gaia Rising Farm, where you can gather to help with the harvest. Here's a photo of some of us shelling beans during a harvest gathering there. They actually sell shares of locally produced fall and winter crops as well -- very unique among CSAs. Gaia Rising Farm is right across the tiny ferry to Guemes Island -- technically in Anacortes, WA. But they do some deliveries onto Fidalgo Island where most of the Anacortes residents are.
In the past we've also had an active Slow Food Movement community. It's still going now but at the moment it's group activity is somewhat less than it was. I think they're transitioning to a new facilitator. We've gathered for huge local food barbecues, where my husband and I contributed iced tea made from our home grown chocolate mint. We've joined in on tours to local farms, like the quince farm on Guemes Island and a goat dairy in the nearby Skagit Valley.
Speaking of Skagit Valley, it's just a few minutes' drive off the island from Anacortes and it has a gigantic farming history that continues to today -- quite famous. Years ago, Dutch settlers started a tulip empire that now attracts millions of visitors (our island is away from the tourists). They actually export tulip bulbs to Holland! And, the valley grows blueberries, cruciferous veggies, the products of grazing animals, raspberries, strawberries, flowers, nuts -- it's been compared to the fertile, abundant Loire Valley of France. There are also cider and wine tasting barns. It's quite well established, and some conventional growers are transitioning to organic or eco-friendly.

In autumn, the entire valley hosts open houses of the many farms which of course include pumpkin patches, corn mazes, hay rides, and less traditional agritourism activities like gathering hazelnuts in a grove patrolled by peacocks. When we took our kids there, the peacocks were put aside during the tour, and the kids loved it when they found a peacock feather amidst the hazel nuts.

People from both Anacortes islands -- Fidalgo and Guemes, participate in an active Transitions Fidalgo group, and gather together to discuss ways to actually create a greener and safer future community.

Climate/seasons. With climate change, it's hard to say what our typical weather is like, but I'll describe what it's been like for the last 25-plus years I've lived here.

Even though some Seattelites think it's not true -- we do have more sunny days in Anacortes, WA and the islands surrounding us than the Seattle and certainly than the coastal rainforest areas. The Olympic mountains (where there's a rainforest that gets tons of rain dumped on it every year) are situated in a way that stops much of the precipitation from making it's way here.
What we're in is called a rainshadow -- or more often people are calling it the "blue hole." People who are outside of our rainshadow/blue hole get more rain and cloud cover, but those who still live close enough to see us in the distance describe how they can look off towards us and see the sky is blue and the sun is shining. Those who live further away, such as in Seattle, complain that it's just a myth about us getting more sun. They say that we have clouds just like them, but that they just get a little more rain with the clouds. But it's been documented that we have more sunny days, and my husband used to commute to Seattle, so we checked it out -- he'd be down there in the clouds and I'd be up here in the Anacortes sun.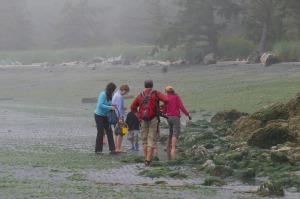 However, it is true that we are in a maritime climate. It's moist and mild compared to a desert, and even though we only get a couple more inches of rain a year than the high Sedona desert of AZ, it is lush and green in the natural forests while the fields tend to turn golden in the later summer. And it's true we will sometimes have fog and clouds but no rain, whereas Seattle has the clouds also but is getting precipitation as well.

Summers bring a moist-warmth from the upper 60s to mid 80s. And there are often a few dry-warmth days closer to upper 80s or 90. Check this article out to read why many believe the Pacific Northwest has the best summers in the nation.

Falls are gorgeous. I love autumn in Anacortes and the surrounding islands and nearby mainland valley. We usually have an Indian summer with crispy sunshine sprinkled with a few rainy days -- the native big leaf maples and red alder turn gold amidst the evergreens, and there are various crimson leaves adding spice to the color. Late summer and early fall sometimes bring days of morning fog that burns off into a sunny day. The few moments between fog and pure clear sun are like an illuminated misty fairy tail.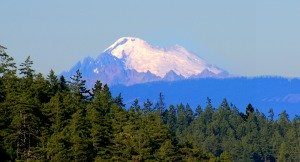 Winters in Anacortes can get temps in the upper 30s at night with daytime temps in the lower 40s. We can get blustery high winds now and then, also, and it's definitely the rainiest time with the most cloud cover. And of course we have sunny breaks now and then even in winter. Plus occasional snow. It rarely stays around for more than a day or two if at that. When we want snow, we go to one of the Cascade mountain range's areas -- such as Mt. Baker shown in the photo above left taken from Anacortes.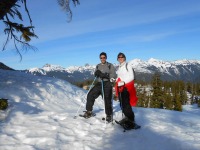 And this photo to your right is of a snowshoeing adventure in January to Mt. Baker offered by our local Recreation Without Borders. But this would be considered the dreariest time of year when some of us make a trip to Arizona, Mexico or the like. We have a small but quality airport near us in Bellingham which is a 45-minute drive away that offers direct flights to Hawaii and some Arizona and Mexico destinations.
In spite of any dreariness, I love the signs of early spring in Anacortes winters. Our climate is mild enough for crocuses and pansies and certain trees to start blossoming as early as January. Every late winter in Anacortes except for three since I've been here -- so for 27+ years -- there's been what I've called a secret spring. For a full week some time in February, it's non-stop sun and days in the 60s. You'd never know when in February, but it's always been that month so far.

Springtime in Anacortes ranges from windy kite-flying weather to lots of spring rain to the most glorious sun you've ever seen. Often in May, there are long stretches of sun with temps that sometimes reach into the low 70s, and it comes just when all the green is at its greenest and the flowers are exploding everywhere.

My favorite months of summer in Anacortes are late July through September. June often still has lingering spring clouds and showers, and cooler temps still hanging out in the 60s. But we know the beautiful Anacortes, WA summers are right around the corner. For $12 (at this writing) you can hop on the Anacortes ferry by foot and cruise the gorgeous emerald islands on a sunny summer afternoon. There is an extra cost for parking your car to walk onto the ferry, though, unless you have someone drop you off, or have friends who live within walking distance of the ferry terminal who let you park your car at their place.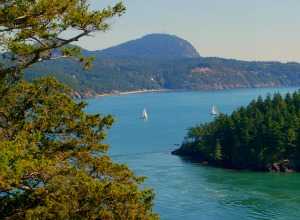 Proximity to other attractions. Many people don't seem to realize that the city of Anacortes and it's own Fidalgo and Guemes islands are right in the center of incredible world-wide travel destinations -- yet we're safely tucked away in our little undiscovered town. For an example of metro areas: Hop on a ferry and be in a foreign city within a couple hours. The city of Victoria on Canada's Vancouver Island, British Columbia feels like a world away in Britain itself. Or just drive on up to Vancouver, British Columbia -- a big, beautiful city and home of a recent winter Olympics.

It takes me an hour and 20 minutes to drive from Anacortes to Seattle with its Seattle Sounders professional soccer team. Plus, buses and shuttles take people to Seattle Seahawks, Seattle Mariners and other large events such as musicals and comedies at the major theaters and world traveling museum exhibits. I can even just jump on a shuttle at the Anacortes ferry terminal about five minutes from my house that drops me off in the main downtown area of Seattle. I can spend a couple hours or more downtown, then catch the shuttle back to Anacortes.
There's also a recreational service that takes up to ten people of all ages on all kinds of trips outside of town -- from summer antique and wine-tasting tours to city Victorian Christmas villages to snow-shoeing adventures to a collection of flea markets and second-hand stores in distant locations. The cost is usually less than what you'd pay for gas to drive there yourself. You can go with friends and family or just sign up on your own.

So much for metro -- the Skagit Valley tulips mentioned above, grown in the fertile mainland valley just a bridge crossing from the town of Anacortes draws people from all over the world for their stunning beauty each spring. And when we live in Anacortes, we can see them easily just minutes away.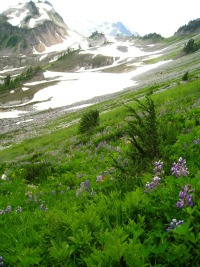 Mt. Baker juts up from the Cascade mountain range like a snow god, and while it has a great ski lodge I'm told (I'm not a snow skier), I've gone there hiking with family and friends in late summer. The photo you see to your right was taken by a friend while hiking in Mt. Baker's "Heather Meadows" in summer. When you get to some of these hiking places, you meet interesting people from families with young kids to hard-core bicyclists from all over the world.
I recall a Russian couple who greeted us as my family walked the high mountain meadows. You can get maps that will also take you to more secluded and challenging hikes. Although we can see the mountain from Anacortes, it is a two plus hour drive from our town. But there's a tiny mountain village called Glacier you pass through on your way to the mountain with a savory Italian restaurant and a little shop across the street with delicious ice cream cones.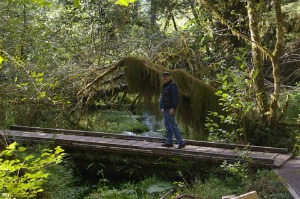 Misty rainforests!!! Washington State is home to one of the few remaining temperate rainforests in the world. When you actually live near them (but not in them -- we don't get nearly that much rain) as we do in Anacortes, you can watch for weather forecasts for sunny rainforest days, and take a spontaneous one or two-day trip to see what it's like to be in a deep, moss-drooped primeval forest with the sun sometimes peaking through the thick overstory. My favorite is the Hoh rainforest -- drive from Anacortes, WA across Deception Pass bridge down to the Coupeville/Port Townsend ferry terminal. Cross on the ferry, -- this takes you to the Olympic Peninsula where the rainforests are -- then drive to the rainforest. "Sol Duc" is an interesting hot springs you might want to enjoy en route. On one visit we stopped off for lunch and an overnight stay at an inexpensive hotel in Forks of Twilight fame, but we were there about a year before it was depicted in the novels and movie.

World famous beach and camping ground??? When my kids were growing up, we thought nothing of driving from our house in Anacortes over the bridge about 10 minutes away that connected our Fidalgo Island to Whidbey Island, WA, then driving a few more minutes to a favorite busy beach spot. Park in one place, and from there you are on a big seawater beach, walk a few feet away and you're on the beach of a beautiful freshwater lake called Cranberry Lake (yes it has wild cranberries), then walk a few more feet and you're hiking in forest trails. We've played on the saltwater shore, hiked the trails, swam in and rented canoes for the lake -- and basically grew up there. Once we even camped there even though our Anacortes home was just a few minutes away! (Now THAT'S backyard camping!). Not 'til later did I find out it's the most sought-after and visited park in Washington State.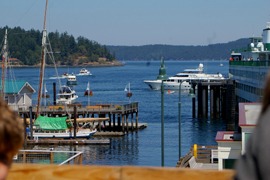 Connections to other islands: The well-known Anacortes ferry terminal brings visitors from around the world to visit the famous San Juan Islands or to Canada's beautiful Gulf and Vancouver Islands. I love cruising the islands this way. I usually just park my car at the terminal and hop on, getting off at various islands before heading home for a sunset cruise. The photo here is a view from our outdoor eating area when we were in Friday Harbor -- a town in the most distant island in the USA that the ferries take you to.

Anacortes's Fidalgo Island is also connected to two other islands. It's own Guemes Island mentioned above (pronounced Gwem ess or Gweme ess -- depending who you talk to) which is connected to Fidalgo Island via a small ferryboat. And the beloved Whidbey Island is connected to Anacortes' Fidalgo island via a beautiful bridge (second photo from the top).

I love living in Anacortes
I report below on various great group activities, outings, events and gatherings enjoyed in Anacortes so you can either enjoy them vicariously, learn about them if you're planning to move here or already live here, or even become inspired to replicate any of them for your own small town.
- Anacortes Farmers Market: a great community activity
- Birding Activities on and near Fidalgo Island
- Anacortes Library: Lots of culture, education, and great group activities

- Christmas activities in Anacortes
- Fun winter gathering on the lesser-known inter island ferryboat
- Fishing activities on and near Fidalgo Island

- Sampler of Valentine's activities in Anacortes (including video)
- A fun March Saturday: Polar Plunge, holistic fair, and pre-season farmers' market
- Our San Juan Islands have been made a National Monument
- Reiki gatherings and workshops in Anacortes

- Living in Anacortes blog: More day to day behind-the-scenes events, activities and musings about living as a resident of Anacortes and Fidalgo Island

---
Return from Living in Anacortes, WA to the Small Town Living Hub