Anacortes library:

A very pretty small town gathering place for learning and culture



Photos and text copyright National Lilac Publishing. LLC

My children had many happy times at the Anacortes library while growing up. I started a local writers' group and we met there once a month. It almost seemed like a second home.
And today it's even prettier than before, with culturally rich learning and arts activities for all ages, quiet nooks for reading and studying, and comfy meeting places.

The above photo is the upstairs fireside reading area.
Here's a sampler of some of the great activities held there:
Free Fiday night movies

A library book club with an annual tea party


Sunday afternoon jazz hour

Access to Livemocha -- the interactive language-learning community

Soft acoustic music recitals

Interesting authors and other speakers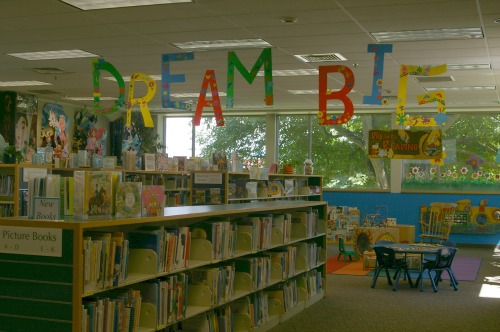 Above is a shot of part of the kids' section at the Anacortes library
The kids of Anacortes enjoy so many educational programs at the library. They include:
Storytimes

Craft projects related to books

Speakers who bring animals or other fascinating subjects

Building crafts

Kids' reading clubs

The above photo is a peek at the kids' playground at the Anacortes library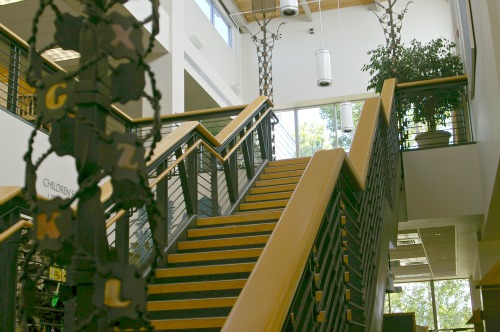 This photo above is the stairway leading to the second floor. It's a great two-story small town library. The stairs and surrounding benches are adorned with swirling metal artwork -- which I didn't get too good of a photo of here.
Libraries, which I realized later in life how badly I've taken for granted, sooth and nurture the introspective side of people. It's generally expected that when you're reading and studying there, people won't distract you or interrupt you. So, you can do solitary work among others doing their solitary work. A heart-warming experience in an increasingly loud and shallow world where one sometimes has to choose between major fast-paced extroversion or complete home isolation to recover from it. The library is a gathering place where other inner minds are on their own private explorations, making such an endeavor safe, and okay, because we see other "villagers" supporting it and taking part in it.

---
Return to Living in Anacortes, WA

Custom Search