Anacortes houses people have turned into fun businesses
Photos and text copyright National Lilac Publishing, LLC
A number of Anacortes houses are being used as the homes of successful businesses in town. I love it when small towns do that -- as long as it fits the rest of the neighborhood and the houses are close enough to the regular main market street as to not impose on quieter residential areas.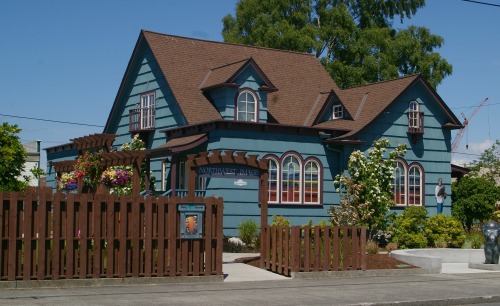 Here are some favorites. The first photo you see above is of How It Works -- a progressive graphic design company. They were designing top quality websites before the rest of us even knew websites were even designed by someone.

This next photo above is of a funky used book store. Inside, they've turned the kitchen area into the section on, of course, cookbooks. Each room holds different categories such as gardening, architecture, fiction, kids, history... I found an old book that showed how to design towns and cities in round configurations.

Okay, I admit a CPA or any type of a financial service isn't necessarily a "fun" business. Unless, of course, they discover you're far richer than you originally thought. But as far as Anacortes houses-turned-business goes, I love this one.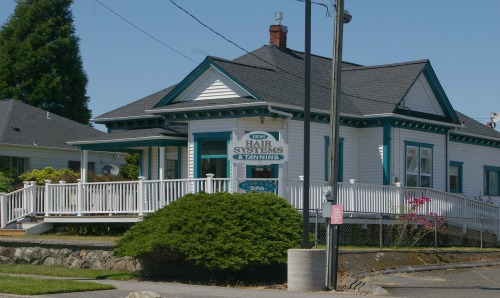 Above is a shot of an Anacortes house within walking distance of the historic downtown area -- the building now used for tanning and hair styling. I've never been in it but it's been around for a while so seems to be doing well.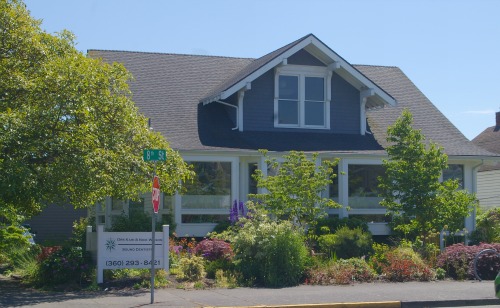 Above is a photo of where my dentist holds his business. Not as scary as a clinic-type environment. Somehow it's much more relaxing because they use a house rather than a doctor's office space.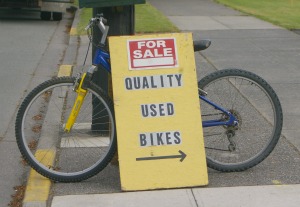 Along with the regular professional bicycle shop downtown, this great little used bike shop operates out of their alley garage.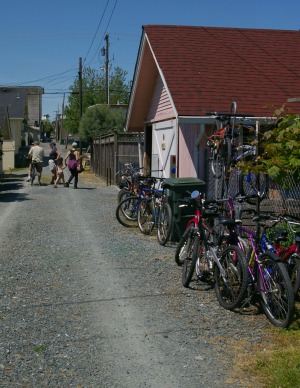 Sometimes they fix up bikes and donate them to the local second-hand charity store.
---
You may also enjoy:
Anacortes homes: a photo tour of favorite homes in this small island town
Anacortes churches, museum, steamboat and other great structures

---
Custom Search