Anacortes homes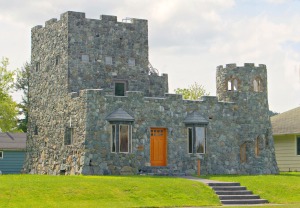 Here's a photo tour of some Anacortes homes to give you a feel for some of the gems in Anacortes. See the bottom of the page for info on buying or selling homes in Anacortes.

Text and photos copyright National Lilac Publishing, LLC

No! All Anacortes homes don't look like this! I couldn't resist sharing how this little castle was built right amidst a normal Anacortes neighborhood. It's surrounded by everyday houses!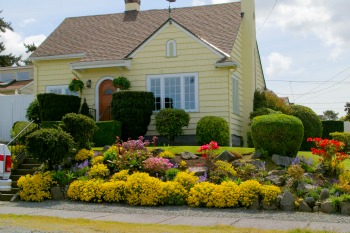 Here's a house amidst one of my favorite spots for Anacortes homes. It's along the older part of the town -- mostly 6th through 11th streets. All these houses in Anacortes face towards a northern view of the seawater (some of course with better views than others). The quiet streets have a charming friendly small town neighborhood feel to them. Many of the homes have their own small front yard and more private back yard. When my kids were growing up, this was our favorite neighborhood to go Christmas caroling and Halloween trick-or-treating. It's still a favorite place for pedestrians if you're more in the mood for a small town type atmosphere vs. the stunning nature environments we have for walking here.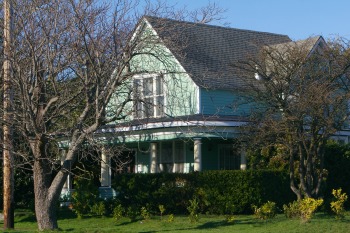 I love the porch on this house to the left. It's near our little health food store and only a few blocks from our public library. I took this shot on a cold, sunny winter day.

Here's another shot of it in late spring from the other side, almost hidden amidst all the green. Some of the shrubs closer to it in the winter shot are evergreen, so it has greenery year-round.

There is definitely the original, older part of Anacortes that has more Victorian and other historic homes. Other parts of town were considered "way out in the country" long long ago. Those areas had farmhouses and Victorians here and there spread very far apart, and were eventually filled in with more modern homes from plain, small and inexpensive to larger and more expensively crafted. A few of the older homes remained and were restored.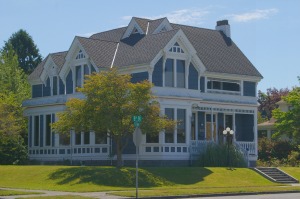 Here's a photo of a blue and white stunner in the older part of Anacortes.
There are numerous luxury homes in Anacortes, also, built in later years. They tend to have more privacy and be on the edges of the island and of course with views to die for. Regardless if a home is luxury or not, if you live on an island like ours, your choice of views can be staggering.
If you want a home with a sea view, you have your work cut out for you in deciding among far too many wonderful choices. First decide if you want to face north towards Guemes and other smaller islands. Or, how about a home with a western view for crimson and golden sunsets reflecting off the sea? Maybe instead a house facing east for sunrises shimmering on the water. Or, homes facing south can enjoy a lot of sun along with their home's view.

Other views Anacortes homes enjoy include views of forests and lakes, and some really like to see the bustling marinas outside their house windows. There are also rural areas where houses are deep within the woods, at the edges of rural lakes, or facing sweeping rolling hills and fields.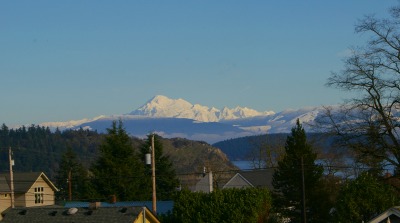 Here's a photo on the right from the back porch of a lovely little home I go to for potlucks and spiritual gatherings. I took it on New Year's Day, so some of trees, you can see, don't have leaves so the view is open up somewhat.  It's near our high school and obviously has a great view of Mt. Baker and a little water.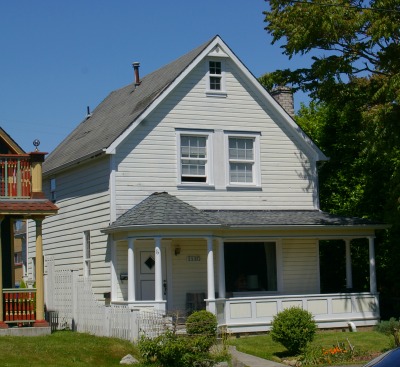 Some homeowners are just happy with a humble house in Anacortes without any specific view. That makes good sense when you're preferring to simplify or maintain a lower cost and less demanding home. A few of these are even within walking distance to the town's amenities. There are so many beaches and trails and parks on the islands of Anacortes, you're just minutes away from all those views when you live in here, anyway.
The photo above is of a row of rentals built right across from the Anacortes public library. I've never seen them from the inside, but they're sort of storybook attractive on the outside.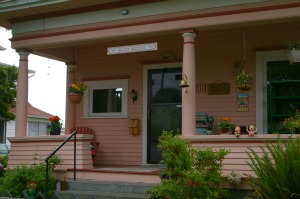 Here's another fun small porch for town living (I'm a country gal so I like humungous wrap around porches). This cheerful home is close to the Anacortes farmers market's area of town.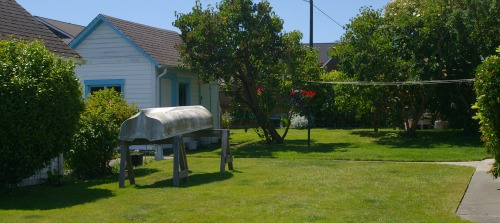 A number of older homes in Anacortes have maintained the small sheds and very narrow garages you see depicted here. I love the look of them.

Were they once for carriages? Too narrow for most cars unless you have one of those little Smart cars, people most likely used them for the same thing we use our modern garages built to store our larger cars... they store extra junk in them.
The above brown house is near the Anacortes health food store. I recall when it was pretty run down, and since I visit the health food store often, I got to watch them renovate it. I like log cabins and cedar siding, but never thought I'd like a house painted brown, yet I admire how this one turned out.

Another white charmer. And another Anacortes home perfect for a small town movie scene. (That's just my opinion, I haven't asked the owners how they'd feel about it!)
____________
So, I'm obviously a house junkie. I grew up in Richland, Washington where pre-fab homes were hurriedly brought in to create a town to build the nuclear bomb. There was no deep craftsmanship or history to the homes where I grew up, yet I would see charming houses in children's storybooks and kids' chapter books. Maybe that's why I love so many of the houses in Anacortes now.
(Go to this page for actual Anacortes Realty for homes or property to buy or sell).

---
You may also enjoy:

Anacortes houses turned into fun businesses
Anacortes churches and other great structures

Custom Search