Anacortes fishing activities
There are many great group Anacortes fishing activities on and near our beautiful Fidalgo Island.
My son, who grew up here on Fidalgo Island, loved fishing as a boy. So did his out-of-town uncle, who I think was happy to visit us because he could often get good fishing in!
So, let's start right in with the Annual Anacortes Salmon Derby: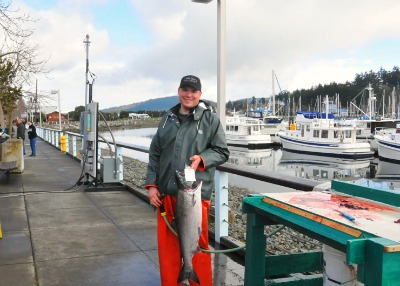 It's held each year in Anacortes at the end of March. The Anacortes Salmon Derby is a wonderful non-profit program that offers a 5-digit cash prize for the biggest fish, plus pre- and post-fishing day activities. All of its proceeds go for scholarships to kids wanting to pursue careers in fishery management and science.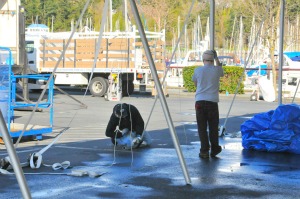 Some of its great group activities beyond the actual fishing include the Great Anacortes Fishing Film Festival (with prizes for best film), free coffee and donuts in the mornings before fishing starts, no host social time, a complementary barbecue, and awards ceremony.
Fly-fishing is a year-round event on Pass Lake on Fidalgo Island:
Pass Lake a beautiful, quiet, pristine lake on Fidalgo Island where Anacortes resides. And if interested, Chris Grieve, owner of Northwest Fly Fishing Adventures, will take groups on fly fishing tours to this lake.

There's also the Fidalgo Fly Fishers' Club. They are a non-profit teaching and promoting fly fishing, as well as helping preserve fish habitat and conservation with people who love fly fishing. They also sponsor various fly fishing group activities including fly-tying events. Their website:  http://www.fidalgoflyfishers.com/

The Annual Smelt Derby is held every February in La Conner, Washington right across the bridge from Fidalgo Island. It's especially fun for families and kids who like fishing. (For this year's dates, do a search engine check for it. There's not one consistent link from year to year I can give you here.) This one-day smelt fishing event starts with a pancake breakfast and has other kids' activities all day long to go along with it. And La Conner is such a pretty town, even those members of the family who don't care for fishing love to visit.
Smelts are very small fish that sort of resemble miniature salmon. An important food source for the natives of the area, they swim in large numbers through the channel that separates the mainland of Washington State from Fidalgo Island where Anacortes is.
____

(For an activity anywhere you can find crawdads, you may also enjoy this article on fishing with kids (and yes, we have crawdads in the lakes on Fidalgo Island.)

---
Return to the Living in Anacortes, WA hub

Custom Search