The Anacortes Farmers Market:

A popular community event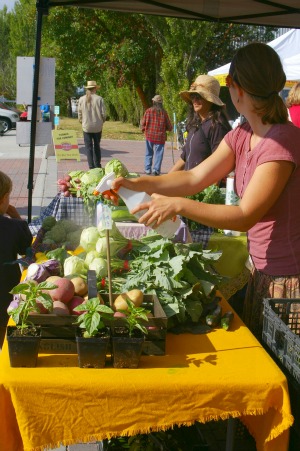 I recall about 3 decades ago when the Anacortes Farmers Market was just being conceived. Sitting in on the meeting, I heard someone say, "Let's make it a town watering hole," and "How much percentage of non-farming booths should we allow?"

Now, past a decade and a half into the 21st century, the farmers market of Anacortes has truly blossomed in my humble opinion.

It's held outside of a building Anacortes residents call "The Depot" -- a real train depot for a real train into Anacortes that never happened back in the late 1800s, and so the building at the end of the never-used railroad has been turned into a community space. Surrounding it is a gorgeous Madrona tree park, cobbled outdoor spaces, and a charming section of the older part of town including an historic steamboat where tours are occasionally given. It's also on the path of a waterfront walk along the east side of the island.
The actual farmers include a handful that grow right on Fidalgo Island or Guemes Island -- two islands that claim Anacortes as their address, and some from across the bridge that leads off of our island who grow in the naturally fertile Skagit Valley. Occasional vendors are allowed from the hotter, eastern side of the state if they offer produce we can't otherwise grow immediately locally -- such as the juicy, aromatic hot-weather peaches from eastern Washington.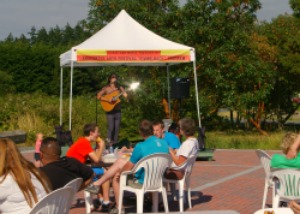 There is also open-air entertainment, and numerous artisan bakers and cooks. So snacks and lunchtime out in the sunny open area is very pleasant and in fact has turned into a community watering hole.

There are also a number of craftspeople and self-owned business owners who offer hand-made items such as boutique soaps and lotions, handmade household items and original art, and chair massage. I've visited hundreds of farmers markets, and the Anacortes one seems to have a higher percentage of art and craftspeople in proportion to farmers than some of the others.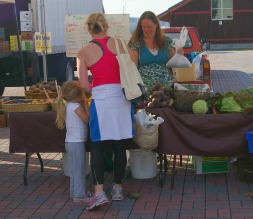 The Anacortes farmers market, just like all real farmers markets, is managed by a board of directors who decide just how many other non-farming vendors can be represented to keep the atmosphere one of a real farmers market rather than another flea market or craft show. But Anacortes is an art-loving town, so in that sense, it probably fits its personality to have a slightly higher percentage of arts and crafts.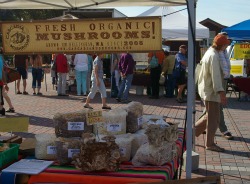 When I asked one farmer what she thought of the high number of artists and craftspeople at the market, she was happy about it. She said it drew people from various interests who otherwise wouldn't have known about her wares. Yet another farmer wished there was more focus on farmed products -- but still found the market worthwhile as a vendor.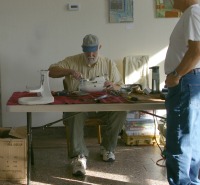 I especially like how our farmers market sets up special events such as a "ride your bike to the market" day where our local bike shop owner showed up to offer repair and safety tips for bicyclists. And in the photo to the left, the lost art of  fixing and repairing instead of tossing out inspired a "fix it" day at the market where people could bring in items for hand repair by those who still remember those skills.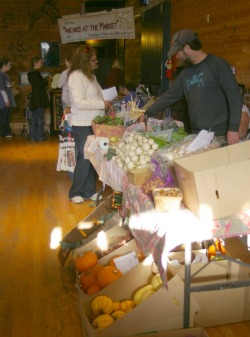 The photo to the right is one I took during one of the market's winter indoor openings.
The Anacortes Farmers Market's spring through fall outdoor market schedule is every Saturday, early May through October. During summer they add an extra Wednesday outdoor market day June through August.
Then January through April, they hold one market a month mostly indoors inside the depot as you see in the photo to the right.
Finally, they also hold a pre-holiday market on a weekend near the end of November.

---
Return to the Living in Anacortes hub

Custom Search