Anacortes Activities: Valentines week
When it comes to Anacortes Activities, Valentines week is yet another great time of year to show off the rich "community within the community" of my wonderful Fidalgo and Guemes Island small town.
Naturally, much was happening all around town as far as our restaurants go -- from fine seafood to gourmet Mexican to hoppin' local food pubs. But I'll focus on three great group activities that I had trouble choosing from as especially good examples of how fun small town living in Anacortes is once you plug in.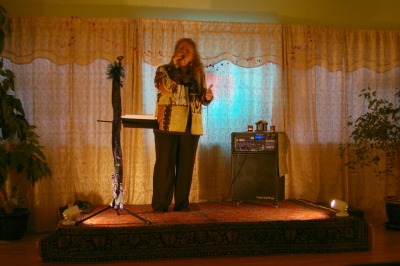 1. Ultimately, of the three Anacortes Valentines activities I found most irresistible, I chose to attend the one-woman concert of Chrystal Lynne, who sang some of the old favorites by Frank Sinatra, Ella Fitzgerald, Rod Stewart, Bette Midler and others. The name of her concert was "Wine, Roses and Love Songs."
It was a good choice for both people like myself, a widow remembering her soulmate, and for couples to attend together. The lights in the wooden-floored room were softened. The little stage you see in the photo set up against the curtains where we could watch the daylight slowly fade to evening.
And oh my, we weren't disappointed by the performance. All those old favorites from childhood, teenhood, and adulthood were sung preceded with intriguing, sometimes shocking, descriptions of the histories of how those songs became cultural favorites. Including the story of how Dean Martin -- who didn't like the Beattles -- swore he'd knock their latest song off the number 1 spot -- and he did it!
Chrystal also sings in a jazz and blues band, but tonight she was solo and the richness and range of her voice amazed me. She's on the road a lot, but while in  Anacortes, we hung out together now and then -- but never had I heard her sing on stage before. What a range -- and she sang difficult songs, like the slow version of Misty!
Chocolates, wine and sparkling cider were served. The feeling of romantic love stayed with me for hours afterwards.

------
2. Another of the Anacortes activities for Valentine's week that same night was called "An Affair to Remember" at our pretty public library. On another couple of pages I've noted that Anacortes may have one of the prettiest library in the country. That's why it wasn't so hard to make it a romantic environment for booklovers. Since I wasn't there, I'm just going to quote their description here to give you a feel for the type of fun and great group activities this small town puts together for special days and events:
-- Your enchanted evening starts the minute you enter the front door, where you will be greeted with a specially chosen glass of sparkling wine and beautiful acoustic guitar music compliments of Mark Clawson. You and your sweetheart then enter the main library where you can wander through the romantic atmosphere and enjoy the various wine stations with savory pairings. All while listening to the Scot Ranney Trio.

Stop everything you're doing as the beautiful baritone voice of Ron Wohl carries throughout the library from the main staircase, serenading you with beautiful love songs from classic love films past and present.

Then slowly glide up the main staircase, sit by the fire as you enjoy romantic poetry read to you by Professor Arthur Solomon. While listening to the lilting voice of Professor Solomon, enjoy sipping the carefully chosen dessert wine paired with luscious handmade chocolate truffles and almond toffee.

While enjoying this very special evening, purchase your sweetheart raffle tickets for a chance to win two very extraordinary raffle items that will not be revealed until during the event.

Enjoy your last stop and relax in the charming atmosphere of Nick's Wine Café. Sit together and enjoy another glass of carefully chosen wine while waiting for the announcement of the raffle winners. During your time in the café enjoy socializing with the other guests and learn from our wine expert, John O'Connell as he educates you on all of the subtle nuances that make this year's wine choices so delicious.

TREAT YOUR SWEETHEART TO "AN AFFAIR TO REMEMBER" and help support one of Anacortes' greatest assets, our Library!

This event is the Library's 3rd annual "Love at the Library" fundraiser to help the library purchase needed resources and fund their special projects for our Anacortes Community! --

-----
3. Finally, along with all the other great group activities going on around town for this week of love that I don't have room to describe -- Jean Mann came back to be part of Anacortes' Valentines activities.
Below is a video of one of her past house concerts:

Jean Mann is an exquisite singer/songwriter/musician and visual artist whom I've seen perform in Anacortes at one of her past concerts. Back then, when I went to see her in the upstairs ballroom of the historic Keystone building in old-town Anacortes (where the Center for Happiness is stationed), she greeted and shook everyone's hand as we entered the ballroom. Naturally, we all told her our names as she greeted us... "Hi, I'm Brenda." "Hello, I'm Bob." etc.
Well, at the end of the concert, she stopped, looked each one of us in the eye and thanked us -- by name! She had remembered every single name of the 30 or so folks who came to watch her that evening!
Her singing really opened our hearts that night, and it was so fitting that she return to town to put on another concert which was named: "Concert d'Amour" with Jean Mann -- A Love Filled Evening" and was held in the ballroom again for Valentines week.
---
Anacortes Activities: Valentines Week to Living in Anacortes, WA