In our small community, it seemed I was "used" to pass on a message from beyond
Copyright National Lilac Publishing, LLC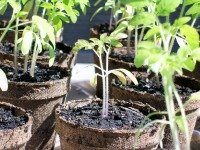 When I think of community, great group activities, and people helping people, I think more about those still here on this plain of existence.
But here's what happened to me one day where it appeared both I, my community, and two ordinary tomato garden starts were used as vessels by something beyond.
I used to do elder care as a sideline while building my farming business. I'd show up weekly for a lady I'll call Anne to do errands, tend her garden, and otherwise keep her company. Her grown children, about my age, were the ones paying me to do this. They lived a couple hours out of town and would call me now and then to ask how I thought she was doing.
One spring, a couple months after I'd stopped doing elder care, I was looking for homes for two healthy tomato garden starts. I grew tomato starts myself for my own farm, and I sold the extra starts. With my own garden, though, already stuffed, I didn't have room for these. Had there been just one, sure, I'd have found a corner somewhere. Had there been at least three, I would have gone to the bother to try to sell them.
But with just two left over, and me unable to kill something so young and eager to grow, I wracked my brain trying to figure out what to do with them. I just wanted them gone before the day was over, they were getting gangly and needed to be planted.
Then I remembered Anne. Last spring, she'd loved growing a variety of tomato plants in her backyard. I'd take them to her!
It was a sunny, windless day. I pulled into her driveway. She obviously still lived there. I saw her windchimes and African violets in the windowsill. I knocked, though, and she wasn't home. So I put the two tomato plants on her front porch and drove off. Although she'd possibly guess they were from me, I promised myself I'd call her after I got home to let her know. (This was before the cell phone days).
But I forgot to call. That evening, though, I did get a call from her daughter. "Mom and I were wondering if that was you who dropped off the tomatoes today."
"Oh, yes," I answered. "And sorry, I had meant to call."
"No problem," she said. "But you won't believe where we were -- why we were gone when you stopped by."
"Tell me!"
She continued. "I was taking my mom to the funeral of her best friend. And while that friend was alive, every single spring except for this one, she used to take two tomato starts and leave them on my mom's porch...."
---
Custom Search