Activities in Anacortes on a sunny March Saturday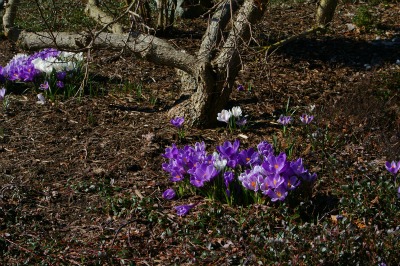 It was a fun early March Saturday. Crocuses were blooming and there were several great activities going on in Anacortes.
We can get soggy Marches, so everyone was happy the days have been the kind that start out in fog, but then burn off to sunshine in the mid-50s.
Today I enjoyed the Anacortes Polar Plunge, a holistic fair, and a pre-season Saturday farmers' market.

Polar Plunge: Thank goodness I was just photographing this event that my daughter and some other friends took part in. People plunge into the cold saltwater at Seafarer's Park in Anacortes to raise money for Special Olympics.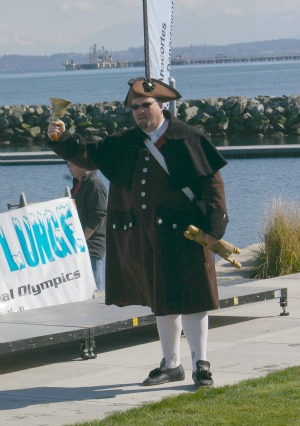 The Anacortes Town Crier rang his bell and got everyone's attention for some activities before the actual plunge began.
After the town crier gathered everyone around him, they drew names for raffle prizes donated by various merchants around Anacortes including our movie theater and bike shop.
Soon several people lined up for the costume contest. The winner was the one who got the loudest applause, which ended up being the guy below in the Superman costume with the blue shirt.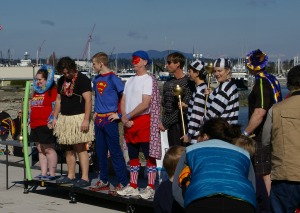 Eventually the canon was shot off, and participants ran in, most attempting to submerge all the way up to their necks. When it was over, they had a changing tent, and there was hot chowder, tea and coffee.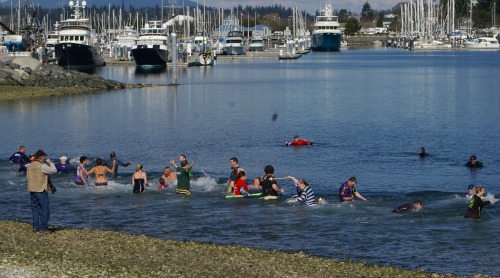 It was held at the Seafarers Memorial Park where the statue below reigns. With Anacortes having a seatown history, the statue below depicts the wives looking out to sea -- hoping their husbands' boats and ships would emerge safely on the horizon.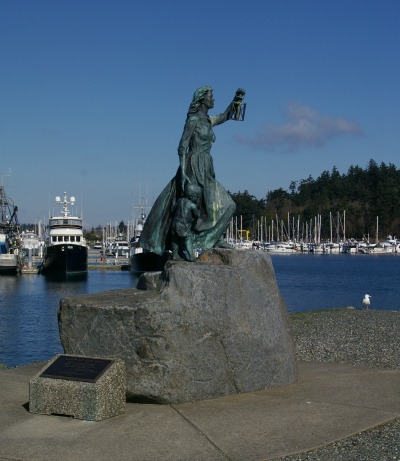 I'm sure glad we no longer live in a world where the women are expected to always stay back and wait.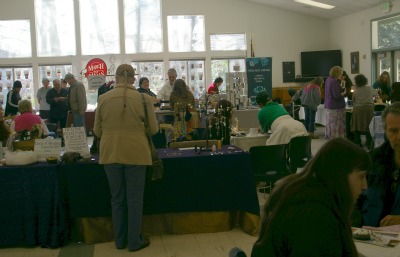 Holistic Fair: For many years, every season or so a holistic fair has come to Anacortes. People demonstrate various energy healing techniques, sell crystals and jewelry, and of course there are always people offering to do psychic readings. It's held in a community building near the Anacortes indoor swimming pool.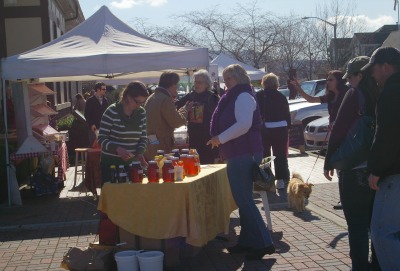 Pre-season Farmers' Market: About every month on a Saturday in Anacortes, we have an off-season farmers market. It was so nice out this time that some vendors were selling outside, and some had early root crops like multi-colored carrots.
I love the shot of the Madrona tree grove below. It's right next to the Anacortes farmers market (near the Anacortes depot). They're a broadleafed evergreen -- so even on this early March day on Fidalgo island where some trees are starting to get their spring blossoms, the Madronas, being evergreen, look like they're already leafed out. Their trunks are red and the trees shed their bark!

---
You may also enjoy the Living in Anacortes hub