Activities ideas:

Finding and enjoying local group outings in your area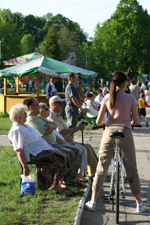 Here's a list of activities ideas that may be just around the corner from you, many free or very low cost. Explore and enjoy local activities you never knew you lived next to.

Minor league baseball or other spectator sports: Many small towns have them nearby and they make great local activities. You don't even have to particularly love baseball or other sports. One group of knitters occasionally takes their knitting club to the ball game! It's just fun to get out into the spirit of the game.
Local farms: The family farm crisis that started way back in the 1980s is finally ending. Renewed small local farms are springing up again everywhere, some near towns and cities. Lavender farms, alpaca farms, goat dairies, artisan cheese creameries, flower farms, u-pick berry patches, heritage grain and bread farms, wineries, cider tasting barns -- many of which allow visitors. Contact your local cooperative extension to see if they have a list of local farms you can visit. You'll find many ideas for activities from the list of farms near you.
Look for activities ideas at your local library: Many libraries have activities suitable for fun outings for all ages. Our small town library has a Sunday jazz hour, public speakers (usually authors), and storytimes for kids, among other fun activities.
Your local Parks and Recreation may have many unique activities: Real life examples of small town local activities some of them offer include movie nights in the park, quartets in the park, sailing demonstrations, balloon twisting workshops, guided trail walks, amateur dog shows, and more.
Local food co-ops sometimes offer fun local activities: Food co-ops in several towns I've explored offer classes on candle-making, eco-travel, introductions to yoga and many cooking classes, all for free or for a very low materials fee.
Don't forget your hometown live theater or dance school: Many small towns and most medium and larger ones have a group of actors who put on plays. There's just something about live theater that no computerized special effects can match. Also, remember local piano or dance schools when looking for local activities. Our town's small dance school puts on music and dance shows about four times a year, including a darling production of the Nutcracker in winter.
The Audubon Society offers interesting local activities for bird watching safaris: and they have many regional and local chapters.
Who knew? Some hospitals have outreach programs offering interesting activities ideas: They have included foot massage classes, relaxation classes, and even yoga classes and Reiki demonstrations free or low cost to the public.
Remember the old-time roller rink and town swimming pool when considering nearby activities ideas. Even for a group of adults, some rinks and pools have adult only times, or week day matinees when less children are likely to be around.
Dig through your local newspaper for local activities ideas: and give it a few weeks before giving up. As time goes on, you may find upcoming parades, food festivals, estate sales, home and garden tours, spiritual speakers, ethnic festivals, one time flea markets, high school theater, and amateur musicians playing at the local pizza parlor.
Be sure to look throughout the Great Group Activities site for other fun outings you can create yourself, such as:
all the extra fun things for Knitting Clubs to do together, or Walking Groups or Book Groups. We have many sections on activities ideas just for kids as well.
---
You may also enjoy:
Alternative healthier honeybee hive

Local Farm Living (micro eco-farming)