Wedding farms
Copyright National Lilac Publishing, LLC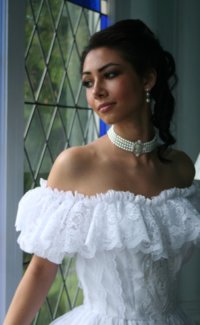 Choices for wedding farms are expanding beautifully. I'll describe some great farm wedding destinations, and also show you how you can easily shop online for wedding farms across the nation, even the world.

Weddings continue to be some of the most festive and meaningful group activities around -- along with the sideline group activities during the preparation for the event. And as family and small farms return and evolve, farms and the countryside have become popular wedding destinations
___________________

Find historical and country themed wedding attire here!
Find country wedding invitations here!
___________________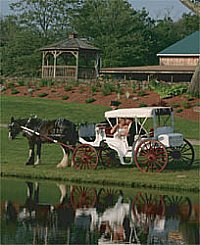 Wedding farms:

Wood Acres Farm in Terryville, Connecticut. This wedding farm started out centuries ago as a fruit and poultry farm, then the owners began training horses for horse drawn carriages. When the current owners inherited the farm, they started a horse and carriage service, and eventually transformed the farm into a beautiful wedding and event destination. They even have a climate controlled banquet barn.

Zephyros Farm and Garden in Paonia, Colorado. What a find! A real organic diversified working farm growing delicious heirloom, gourmet and garden variety vegetables and flowers which can become part of your wedding celebration. Beautiful views and a sense of being very isolated in the countryside, but not really so far away from towns. The farm owners have many years of experience with bands and guests of up to 200.

Pelindaba Lavender Farm on San Juan Island, Washington State. I've strolled this beautiful farm, interviewed one of its owner and written about it in The New Agritourism: Hosting Community & Tourists on Your Farm. There are several acres with wide paths in between the sections of lavender and lovely views that lend themselves well to a farm wedding. The owners are very experienced at setting up elegant events and handling crowds with plenty of good parking.
Prairie Peddlar in Odebolt, Iowa. This farm also appeared in The New Agritourism: Hosting Community & Tourists on Your Farm when I interviewed them for the book's preface. I love the story of how they became one of the most successful wedding farms in their area. The farmer's wife needed an at-home business so started a greenhouse and planted whimsical gardens as a customer draw.

When seven acres next door came up for sale, they purchased them and the gardens expanded. They now include more than 75 flower and theme gardens and an historical barn. Then, when one of their daughters wanted to marry on the farm, it inspired them to add weddings to their on-farm events and have since added a white perennial garden and multiple possible weddings sites on their farm which can be small and intimate to huge affairs with up to 600 people.


Wedding Farm Directories:
www.agritourismworld.com
www.farmstayus.com
www.localharvest.org

On these directory sites, some of the farms listed have more general descriptions of what they have to offer. For example, some just state they offer "farm stays" but don't directly state that they hold wedding events -- which they may or may not do. With any farm that catches your interest, ask up front if they've had experience at hosting weddings.
---
You may also be interested in
Wedding inspiration: Images and resources for period and vintage-inspired wedding attire
Ideas for country wedding invitations

---
Custom Search