Fathers join mothers as K-12 school volunteers
Copyright National Lilac Publishing, LLC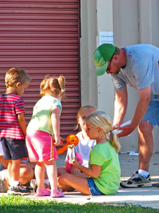 I can't thank school volunteers enough.

Many are mothers and even senior citizen volunteer "grandmothers" who make a lasting positive difference in kids' lives, not to mention making certain school programs possible that otherwise couldn't be afforded.

And I remember an at-home cabinet-maker father whose wife had a busy career that often took her away from home. He became our students' class "room father." What a great influence he was!
Schools are loaded with ongoing various group activities from serious to free play. Volunteers in schools provide role models, enhanced school security, and an enormous boost to education itself.

An exceptional program for father school volunteers:
For years, mothers and mother/grandmother figures have contributed as volunteers in schools. They are very much appreciated. And now, there's a proven non-profit program that's succeeding at getting fathers involved as well. Already in operation in 38 states and in New Zealand, this wonderful fatherhood program has training and support for others who want to get involved.
Called by the registered name, Watch D.O.G.S. (Dads of Great Students), here's their own description: "The father involvement initiative of the National Center for Fathering that organizes fathers and father figures in order to provide positive male role models for the students and to enhance school security." (We have no business affiliate -- this link will open in a new window.)
In this school volunteer program, fathers, grandfathers, uncles and other father figures do things like monitor the school entrance, assist with car drop-off and school bus loading and unloading, and help with homework, spelling or flashcards in the classrooms. Fathers are asked to choose at least one day of their kids' school year to spend the day. Even for fathers who work outside the home, fatherhood is more than just being an ATM machine to the family.
A main coordinator works with the men, school administration and teachers to organize volunteers into a smooth and helpful system. This is a great opportunity for school volunteerism to further along that sense of both gender/intergenerational village, which is a far more innate and natural environment in which kids are adapted to learn.
---
You may also be interested in
Gardening with children -- including school gardens

---
Custom Search