Paris Traveling: Creating your DIY group travel club
Copyright National Lilac Publishing, LLC

Dreaming of Paris traveling (or Anywhere traveling) with friends or family? Here's a combination of how the editors of Great Group Activities turned their first trip to Paris into a DIY self-guided dream trip.

You could replace "Paris traveling" with any other safe travel destination and adapt this article. But we also have some specific Paris traveling tips within this article, including some resources for learning French at home.

Group activities involving travel can be the experience of a lifetime or fraught with exhausting newbie mistakes. So gather your future travel companions now and initiate your weekly Paris Traveling (or other destination) DIY travel club using fun group activities in advance to prepare for your trip, and shorten your time between being an obvious newbie to an experienced world traveler.
1. Raise travel funds as a group
Some groups prefer to skip this step, but if yours wants to raise some travel funds together, your best bet will probably be short term projects vs. starting a home-based business together, which can take years to profit. A group garage sale and houseplant sale, a group eBay store, or temporary domestic services can work.

Your non-traveling friends and family may be willing to indulge in paying you for half-priced amateur window-washing, thorough yard weeding, car or boat washing, a weekly homemade dinner or cookie delivery, or creative weekend child care to help you get to Paris. Or, place ads for your service in Craigslist. There's nothing more boring than weeding, but a motivated group can get it done in record time.

2. Learn French at home as a group activity
In France, especially, you'll get so much more out of the trip if you can communicate a little and understand at least some of what's going on. While Paris seems to have a few more speakers willing to speak English or other languages than the rest of the country, France in general likes to stick to French, period. There are now so many ways to learn French at home (or many other languages) that just about everyone could be bi-lingual. The trouble is, it's hard to get motivated alone. Instead, set up the following group activities to learn it together before your trip.
- Choose a source for learning French at home with your group: Many people love Rosetta Stone, and some public libraries may have it available to use from your home computer. A quality but simple audio method to learn French at home is Pimsleur's audio program. Check your library for other options. But realize that old rote memory language learning tapes and programs can be discouraging.

One more affiliate resource for learning French at home is Surefire French Learning Package.

- Gather weekly and do one lesson together, then watch a French movie together. Rent movies, even children's animations, that give you a language option. Choose those you love and already know by heart, and choose the French language option. Your public library should have free DVDs for rent with this option. Newer French movies with English subtitles are also excellent. Put someone in charge of hunting them down.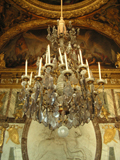 - Once you get to step 3 below, obtain French music to listen to as quiet background music. This creates passive learning, which is also very valuable. And just getting used to strange sounds by hearing them over and over without trying to memorize anything will accelerate your learning of the French language. Libraries sometimes have French language music to check out. You can also type French music into the YouTube search to listen to people singing in French.

3. Add a Paris traveling book to club meetings
Once your club completes the beginning basics of learning French at home, obtain a "Rick Steves Paris" book for each club member. He updates them yearly so get the latest one available. Then do as reading groups do: Choose chapters that pertain to your plans, read a chapter a week and gather to discuss it.
4. Create your itinerary and make final travel plans at these meetings as you follow along with the book

Follow and adapt the guidelines he suggests that apply to your Paris traveling plans, creating your club's itinerary, making action checklists for his suggestions such as insurance, choosing hotels, and booking flights. Speak in French to each other as much as you can. (Rick Steves is the king of self-guided independent travel anywhere in Europe if you're choosing a different destination than Paris.)

5. Do an out-of-town domestic practice travel
If your bunch has never traveled as a group activity before without a professional guide, you may be surprised at all the little kinks and quirks you just can't know of ahead of time that will show up and cause stress, even make you miss flights or get lost. A practice trip will smooth many of them out and make your trip so much more pleasant.


If your budget is tight, as least plan an out of town overnight trip to a safe budget hotel and go out for dinner in the new town. If you can afford it, travel by air to your state's largest city (unless you live in it, in that case, fly to the next largest city), spend a weekend in a hotel and eat in French restaurants (Asian, Mexican – whatever reflects your ultimate destination). Window shop in French stores, and look for festivals and art galleries celebrating your destination. Continue speaking French to each other.
6. Hold a final pre-travel meeting
After your group's practice travel you'll see things more clearly. Go over your checklists and make sure everything is completed and in order for your Paris traveling adventure. Bon Voyage! Bon Appetit! You're now an experienced travel club with a solid foundation for your travel destination's language. You should get at least 200% more out of your trip because of your Paris Traveling DIY group travel club.
A few bonus Paris traveling tips and suggestions
- Regardless of what any travel guides say, we're happy we got the rental car insurance option when driving rental cars on our own. Especially if you're a USA or Canadian citizen, we're used to our wider streets and different driving rules. Driving in Paris is insane to us (Parisians do just fine). And if you take any excursions to villages, the roads are extremely narrow. The peace of mind was worth the extra expense.

- Consider going in May or September/October. The weather was still great for us, Monet's garden was gorgeous, and the hoards of tourists as well as Parisians on summer vacation were gone. It felt like seeing France more as it really is.
- Two excursions out of Paris -- Monet's Garden in Giverny and Versailles -- were well worth the days spent there. Monet's Garden takes you into a completely different world. While at Versailles, if possible, try to see Marie Antoinette's outdoor peasant hamlet re-enactment.

It's like stepping back in time into a French fairy tale. But book carefully. Both of these destinations are closed certain days of the week and they don't make it that obvious. We were lucky with Monet's Garden, but the inside of Versailles was closed when we arrived. Fortunately, the hamlet was open, which may have been a blessing, as we may have missed it for the gilded gold of the inside of the palace instead, otherwise not knowing the hamlet was there.

---
See also our article on creating your own cooking club, adapting it to Paris traveling if you want to add French cooking to your DIY travel club pre and post activities.
---
Custom Search