This local daycare cooperative model allows kids to be nearby with a "sense of village" while working parents still work full or part time at home or away
Copyright National Lilac Publishing, LLC

A local daycare for pre-school or school-aged kids may not exist or be affordable in your neighborhood. But here's a far more reasonably priced alternative.

It uses a perfectly matched screened local babysitter, and a creative neighborhood childcare home trade model that's less like a "center" and more like a sense of neighborhood community.
This local daycare model has many advantages:

Kids get to grow up with neighborhood kids near parents and near home. Parents get more influence on their kids' daily lives, and even share lunch with them on work days now and then.
This model works best for families where at least one parent works from a home office at least one day a week (don't worry – getting your work done free from childcare is top priority). But families with one part time parent or where both work outside the home but can agree to each take two personal days off per month in the summer only can adapt to this program.
Many parents work in home offices today, but when their kids' long summer or holiday breaks appear, that doesn't mean their need to earn income disappears.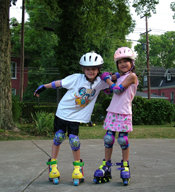 Yet we still want our kids nearby in our own neighborhoods interacting with friends and a true village. We want the best of both worlds.
This local daycare model is created cooperatively with a few other neighborhood families who share similar enough family values to be a good match. A screened local babysitter along with a senior citizen assistant provide the "intergenerational village-type care" in the neighborhood. Parents still work while kids get access to their neighborhood and sometimes get the joy of sharing group activities with other kids in their own homes.
The local daycare host trade routine

Neighbors take turns providing the host home while they continue to do their work and the two sitters do the childcare. When the local daycare is in your house, the sitters are still responsible to make sure you're spending your time working, and not solving issues. The group activities you'll be responsible for that day will have been planned ahead of time by you, and carried out by the sitters.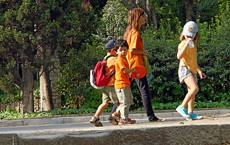 It will still be somewhat more distracting for you when your home hosts the childcare trade. Use that day of the week for the aspects of your business that don't take as much focus, and perhaps join the kids for lunch.
Here's how to find the perfect local babysitter
Go to Sittercity.com and use their screening process to find a local match if there's not already a Red Cross certified trusted sitter in your neighborhood. Sittercity is a fantastic local babysitter matching service with an impeccable reputation nationwide.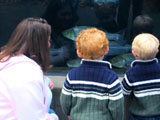 Two other similar quality sites to find your local daycare sitters are nanny4hire.com and babysitter4hire.com. You can also contact your local Red Cross chapter to see if they've had babysitting certification classes recently with a list of local babysitters. And, check local senior Girl and Boy Scout troupes and high school counselors for recommendations of certified, skilled and trusted sitters. For multiple kids and a local daycare type setting, you really do need an energetic young but mature person able to drive, take a bus, or walk herself to the neighborhood daily to be the main one in charge.
The neighborhood agrees on a local babysitter match for their kids (and visa versa). The local babysitter sites listed here will help you determine a fair fee for this situation, but overall it usually costs less for parents who share babysitters vs. one sitter for each child who's paid individually.
Then, contact your local senior center for recommendations on a senior citizen who has raised kids, loves kids, and would be willing to be a more secondary background assistant for a slightly less but still dignified wage. You may want to ask a few to try it out, and allow your sitter to help choose the best match. Be sure to see official identification and do an online background check (some are free). Find a chemistry that works between the trained, screened younger babysitter who does the heaviest work and the more background assistant who provides calm, loving attention and wisdom.
Choose and maintain a couple back-ups for when main ones are ill or busy.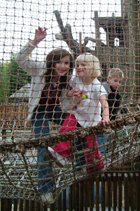 Cost for this cooperative local daycare is far less, but must still be fair

There's no "center" or overhead that has to be maintained, so fees can be far less. Plus, several families are sharing the two local babysitters, which cuts back on cost.
But it's a tough and important job and you want to attract and keep the best sitters.
Be willing to give your neighborhood local daycare sitters the same amount of pay per week, even if your child occasionally isn't there because of baseball practice, sleeping over at a distant friend's house or for going on a camping trip with cousins. Otherwise -- needing a steady income themselves -- they may prefer to move on to other clients.
If a child really won't be there for an extended amount of time, pay a little towards the group to hold his place until he gets there, then begin paying extra to the sitters once your child is involved again.
Adjusting the local daycare for older kids
For one or two older kids who need a little more freedom and a little less structure for at least part of the day or week, parents can give the sitters rules on where in the neighborhood they can go to ride bikes, skateboard, or meet other friends in the park. Individual parents must decide if or how they'll include child monitoring devises and other modern day methods of knowing the whereabouts of their children.
Make sure the kids earn their freedom by showing they're capable of checking in with the sitter on time and showing her they're always where they said they'd be every time she checks. The sitters may even want to revolve part of their day around where the older child or children wish to go, such as a nearby park, then take the younger kids there to supervise them in play, and look up occasionally to check on the older kids.
For kids at that cross-over point age-wise, consider giving them minor jobs along with the other two babysitters and paying them to help out with the younger kids. This gives them a purpose while they're still somewhat looked after.
A daily local daycare routine could go like this: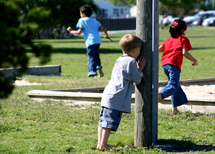 Let kids eat breakfast at home with family.
Start with cooperative childcare group activities (libraries have books on cooperative games)
20 minutes of chores/good deed at the host home (feed or walk the pets, fold and put away laundered towels, water the potted plants, harvest cherry tomatoes, any job the host or sitter comes up with)
Snack provided by host
Craft project chosen by host with materials provided
Lunch brought by kids, provided by host, or sent potluck style by participating families (decide ahead of time with other parents)
Merge naturally into quiet free time (library books, drawing, coloring, blocks, toys provided by the host, kids bring their own books or journals, decide ahead of time if electronic games will be allowed)
Afternoon physical exercise such as jumping jacks, dancing, hula hooping, jump rope, outside free play, a neighborhood walk, a roller skating day, a game of hide and seek.
Movie or storytime planned ahead by the host
Ask the sitters to occasionally break up the routine with a backyard or neighborhood scavenger or treasure hunt . Our own Great Group Activities site has many fun group activities for kids.
A neighborhood childcare weekly routine could go like this:
Mondays at neighbor 1's house
Tuesdays at neighbor 2's house
Wednesdays at your house
Thursdays at neighbor 3's house
Fridays: all neighbors have at least one parent that takes a day off to catch up on house and yard, allowing kids to just come and go from that home.
If parents can't take a weekly Friday off, consider a monthly Friday off, using the sitters on the remaining Fridays. Continue the hosting at whoever's home would be up next throughout the summer. You won't always get a perfect amount of host homes to match the number of weekdays you need. Look ahead for the summer and make sure everyone does their fair share. If most can take the Friday off, the one who can't can arrange something on their own for that particular day.
Plan ahead for possible local daycare field trips and days off
Look to see what holidays and July 4ths might not call for babysitters , make sure the local babysitters are aware of this. Check for kid-safe school holiday or summer programs in your town. Your parent group may want to pay for professional van transportation with the sitters and kids for an occasional field trip. Make sure all families will host an equal amount of time, and have a back up if a babysitter or host gets sick and needs to trade with another host or needs a babysitting replacement. Don't leave either of the local sitters on their own, even if a parent has to step in as an assistant during an emergency.
Avoid parental competition
I've seen excellent programs like this run very well, and others deteriorate as parents try to "be the favorite." Avoid adding more and more dye and sugar to the snacks you provide to outdo the others, turning your home into Disneyland, or trying to be the favorite by letting kids skip the chore/good deed. Real life is a gift to kids, and those who teach children they are royal highnesses to be waited on by slaves are setting them up for a less happy future.

It's beyond the scope of this website to deal with taxes and other legal issues, but be sure to check for updated national and local regulations on hiring domestic help. Some of the local babysitting services listed above may lead you in the right direction.
---
You may also enjoy:
Bonding for the adoptive or blended family

---
Custom Search