Classic lawn games for fun group gatherings
Copyright National Lilac Publishing, LLC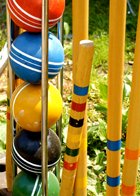 Old fashioned lawn games and lawn parties are enjoying a rebirth in popularity. Here are the basics on some favorite classics:
Croquet: Croquet needs a relatively flat area, a short lawn mowing with good drainage. Regulation croquet is played on an area of 35 by 28 yards, but homeowners scale that down all the time, keeping -- if possible -- to about a 5 length to 4 width ratio.
Badminton: This traditional lawn game formally calls for 44 feet deep by 17 or 20 feet wide, depending on whether doubles or singles are playing. But you can informally set up a net in just about any space that allows players to move around somewhat towards the birdie. If played often, it helps to have a strong turf that renews itself easily under heavy badminton traffic.
Bocce ball or lawn bowling:
While official courts for this lawn game are made of clay or rock dust with formal permanent sides, more casual lawn bowling simply uses a short lawn surface of 60 to 100 feet long by 10 to 14 feet wide. You can scale that down to any size you want.

Flat surfaces are usually used, but some hills can add a challenge. Wooden posts laid along the edge can temporarily define the bocce playing area if desired, but are not needed. For bowling on lawns, heavier (vs. plastic) balls work best in grass.
Horse shoes: This lawn game was a staple at old-fashioned lawn parties, and is usually played at 6 to 10 feet wide by 46 to 48 feet long. The horseshoe target or stake is actually 2 feet in from the end of the court. The area immediately around the target, though, is usually sand or gravel and is about 3 by 3 feet, so some of your lawn will be sacrificed in that area unless you just want to informally have the target on short lawn. Your sandy area could also double as kids' sand play areas when not in use for horseshoes. (For heavens sake, make sure it's not in use by the kids before tossing the horseshoe!!!)

Lawn renovation after the game
In some cases of lawn games after lawn parties, you'll have mowed your lawn much shorter than usual and certain areas will have been trampled more than it's used to. Give the lawn extra water after the games, or even sprinkle certain areas with a couple tablespoons of organic blackstrap molasses mixed with a gallon of warm water for a quick natural lawn boost. If you use the Gardens Alive method of lawn renovation, overused lawn areas will fill in on their own without reseeding.
---
Custom Search