Kids' superhero costumes to the rescue!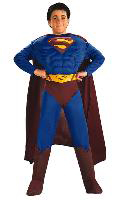 Kids' superhero costumes make it possible for boys, or both boys and girls, to enjoy the thrill of playing dress-up. Too often, we girls get all the fun by ourselves, being invited to fairy princess costume parties or American Girls' dress-up tea parties. But for young boys' party themes with superheroes, they can dress up like Superman, Spiderman, Robin Hood and others.

If girls are part of the costume theme, they enjoy Supergirl, Wonder Woman and other female heroes. Many kids also like to just make up their own super person character.
A favorite source for superhero costumes:
We like our affiliate Costumes4Less for their year-round huge assortment. See the Superman image above and more images to the right which are just a few of their many choices.
Costumes4Less has well-known superhero outfits such as Spiderman, Super Girl, Robin Hood and Jonah Hex.
But they also have capes and half masks in bright, black or shimmery colors for kids to invent their own superhero characters.

Great boys' group activities (girls, too) with superhero costume themes:
Our town's Parks & Recreation holds superhero boys' group activities, where they arrive in their costumes, and are guided to conquer an obstacle course. They're taught physical fitness skills like how to jump higher and land properly. This way they get fitness training and exercise while they nurture their own imaginations. Instead of inviting a clown, invite a kids' fitness trainer to your next kids superhero costume party.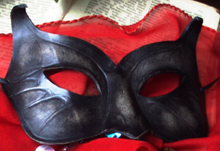 DIY kids' superhero costume
Some kids have a lot of fun making their own superhero costumes along with their own super hero characters. The main items many superheroes need are a half mask and a cape of some sort. As a child, I spent hours leaping through my neighborhood with a bath-towel-turned-cape tied around my shoulders, playing a sort of female Mighty Mouse.
You can find inexpensive half-masks of many colors at craft or party stores, and Oriental Trading Company sells white half masks that kids can decorate with fabric markers.
For capes, cut pieces of old sheets or cotton from a fabric store into appropriate sizes for kids superhero costume capes.
Kids can then either decorate plain fabric capes themselves with fabric markers, or you can buy cotton fabric in brilliant superhero gold, red, black or in superhero patterns, and let kids choose among the fabric colors to fashion their own capes for their own imaginative superheros.
---
Custom Search