Kids' sports: make it a remarkable experience
Copyright National Lilac Publishing, LLC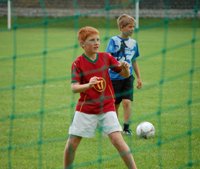 Kids' sports are one of the most traditional group activities of both developed and developing nations. The fun and success they provide was often abundant during girls' softball, boys' baseball, and the other children's sports teams the editors of Great Group Activities coached. But we saw problems as well.
So over the years, we've collected group activities of a different kind that:
1. Help kids' teams bond as a unit (and therefore play better together).

2. Help kids improve athletically and emotionally regardless of how the season's wins and losses end up.

3. Strengthen social skills and intelligence that can help kids for a lifetime.
Some children's sports group activities can do wonders for the team and individual players

Even the less competitive kids have come out of their shells. Over-competitive ones learn the value of community. And Cinderalla wins came more often.

It's the non-profit National Alliance for Youth Sports (NAYS) and you won't believe what wonderful things they're doing for young people in sports (and therefore, in our opinion, the future of the country – seeing as though sports has played a huge role in shaping youth – tomorrow's future).

And one more gem: Founding Fathers: A non-profit brotherhood of men dedicated to making sports that involve boys end the subtle and not-so-subtle conditioning that degradation and violence towards women and children means strength and athletic conquest.
Our kids' sports hub features the following articles
Here's to children's sports becoming the great group activities they truly can be: builders of a positive human society.

---
See also our sister site dedicated to girls' softball, for adaptable articles on lesser known ways to help teams play better together as a unit and make the season rewarding, win or lose.
---
Custom Search