Great girls softball team names
Copyright National Lilac Publishing, LLC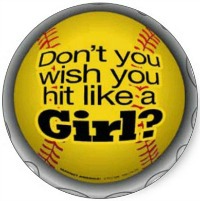 Looking for girls softball team names? Whether you want ideas on how to create names for girls teams from scratch, or want to see a list of team names for ideas, you've come to the right place.
Sometimes, youth sports team names are already chosen by the sponsoring business (as in, "Safeway played Tom's Pizza today in 12-and-under girls softball…"). Or, your girls softball team name is partially or wholly chosen for you because your geographic location or your school is expected to be part of the team's name. When choosing or creating girls softball team names of your own, take a look at the names below to get your creative juices flowing. Choose one just as it is if you like, or mix and match.

Or, brainstorm other animals or words that suggest quickness, youth and softball. If one word is already determined, such as the name of your town or school, try for alliteration, which means the words start with the same sound (Rexville Raiders, Lynnwood Lionesses). Some of the best softball team names use this trick.

If choosing words that suggest childhood or smallness for your team's name, be sure it still suggests skill and speed vs. innocence or weakness. Pixies and kittens, for example, suggest small and childlike but also conjure up thoughts of having quickness of body and mind and being highly spirited.

Be sure to avoid sexist terms in choosing girls softball team names, no matter how funny you think the play on words is. Words are powerful and sink in, especially with girls. Even though men's magazines manage to get top female athletes to take off their clothes and pose for them, there still remains a sanctuary for young girls in athletics where their bodies aren't compared, ranked or exploited as sex objects.

In can be a fine line, sometimes, in deciding on appropriate words for team names. Girls, for example, wear ribbons in their hair which sets them aside from boys. In that case, one could argue that they're trying to look pretty and the term "ribbons" should be avoided for sports names (such as the Racing Red Ribbons), Another argument is that they're simply expressing themselves with art just as tribal people, males and females, wear feathers and beads. You decide whether "Blue Ribbons" is an appropriate play on the baseball team name "Red Sox."

But do avoid overly cutesy words for girls softball team names such as "Cutie-pies" or "Dolls." Girls are highly attuned to social expectations and will respond, usually with more cutesy-ness and less sports-like behavior, if their name reflects that. And, most certainly avoid sexist suggestions, even if you think the girls are too young to understand. Skip such terms as Eye-Candy or Diamond Babes. With the term "chicks," it can be argued that it's a term for "sexy girl," or that it's more just a slang term for young female. Again, use your own good judgement.

Sample list of girls softball team names
Orange (or other color) Crushers

Xtreme 14 (use # of girls on team)

Custom Search