Great girls softball gifts
Copyright National Lilac Publishing, LLC

Looking for girls softball gifts? Our assistant editor, Amy Rose, offers unique ideas and advice below. But first we'll start with gifts for girls, then ideas for coaches and softball moms and dads further below.
Softball season scrapbook: Make or purchase a softball-themed scrapbook for her to use in the upcoming season. If she doesn't have a digital camera to use with it, add an inexpensive disposable camera along with it. Include a few large quality markers in her team's colors.

You can choose from many softball-themed binders for scrapbooks here. Or, you can also design your own gift scrapbook covers from scratch here.
Custom softball posters or trading cards with her photo: If you can get a good photograph of her playing softball (one you're sure she -- not just others -- really likes), order custom sports trading cards (the size of business cards) or turn it into a poster. These all make great softball gifts.
Pre-designed girls softball posters: Look here for a huge assortment of softball posters that make great gifts for girls who love softball.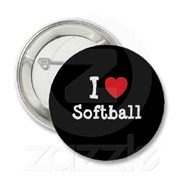 Softball buttons and badges. Go here for softball buttons/badges – both pre-designed and customizable. You can choose colors, team names, and even make your own from scratch.
Softball stickers: These are fun for just one girl or as gifts for a whole team. You can find a huge assortment of softball stickers  here. (Softball stickers and scrapbook binders make good girls softball gifts combined together)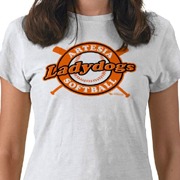 Special softball t-shirts: Softball players will have their own team t-shirts, of course. But a special customized casual t-shirt can make a fun girls softball gift. You can find many fun pre-designed customizable softball t-shirts here.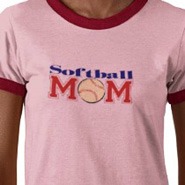 Softball gifts for coaches & softball parents

The classic coach's mug:  They never go out of style. Find lots of customizable softball coach mugs here.
It's also fun to put goodies inside the mug, such as small cookies or tickets to a baseball game.
The softball mom or dad's T-shirts: There are lots of softball parent designs here, and you can always find the "create your own" button and custom design from scratch.
Softball ties: Lots of fun softball ties here.
Design coach's, parent's, or girls softball gifts completely from scratch:
Steins, iPhone covers, keychains, hoodies, socks, tanks, and much more here.
Or, just browse these various softball gifts from keychains to clothing.
____________________________________

Thoughts on choosing the best and girls softball gifts that will really please her:
First: Go ahead and think out of the box when choosing softball gifts for girls. Girls softball gifts don't have to have hard edges and be purely serious. Girls softball players often love to write in softball diaries and journals or keep softball scrapbooks, make team colored necklaces, and knit team colored hair scrunchies.
- Another girls softball gift idea: Give her softball jewelry or buy loose beads and fixings and make a kit for her to make her own softball-themed bracelets and necklaces, perhaps in the colors of her team.

- Or, give her a scrunchie beginner's knitting kit with yarn in her team's colors. Look for these at craft stores.

Second: You may want to also think of adding something for her whole team or the girls softball sports fans when considering a gift. Girls are social and love to hand out goodies to others. So, when choosing softball gifts for young girls softball players, consider adding something to the personal gift you give her that she can share with others.

For example, find out the maximum number of teammates she has, then order custom team colored badges, stickers or athletic hair accessories for that amount, with a couple extras for those who might lose theirs right away. And/or, order 50 or so team spirit name badges that can also be handed out to the fans of the team in the bleachers.

Third, but not least: Know her team colors if choosing wearable girls softball gifts. While there are a variety of print-on-demand sites where you can have customized softball T shirts, caps and sweatshirts printed, before you create and order a "Susie the Softball Star" wearable, know what her team colors are and make your softball gifts in that color. Girls are very faithful to their teams, and dark blue on white may very well be the enemy team color!

If it's off season, find out if the girl will play on the same team next year and then find out those colors.

If it's impossible to know her team's colors, then it's best to choose colors that won't ever be any team's color, such as a combination of pink, white and black, or a full color design that includes all colors of the rainbow. Wearable softball gifts for girls in these colors are enjoyed, but still avoid the risk of becoming the color of the "other" team.
Custom Search