Building sheds, dog houses, playhouses and other "real" outdoor structures is a soul satisfying group activity
Copyright National Lilac Publishing, LLC
Building sheds may be more than what it seems. Humans almost have a need to build shelter and structures together. Such projects seems to weave us together in some invisible way when done in the spirit of shared community (vs. slave labor). In the free world, we've long since handed home-building over to experts -- and in many cases, rightfully so.

But that doesn't mean building sheds and turning them into backyard retreats, playhouses, workshops, or even, well, sheds, also has to be out of the picture as a group building project.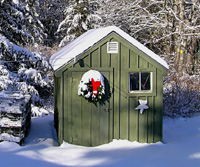 And here are several meaningful reasons for building "real" outdoor structures as a mixed age or kids' group activity:

Build dog houses as a kids' group activity: If you don't own a dog, is there a neighbor or senior citizen who could use a dog house? Is there a humane shelter that could use one?

Build a shed as a kids' group activity: Sheds don't just have to be for outdoor storage only. They can be a play area, a writers' retreat, a hobby shed, a permanent outdoor fort. Choose the building project's ultimate goal, choose the backyard where it will be built, secure the plans and materials (and possibly permits), and invite the group for a day of outdoor building.
No matter how pro-active you are, building sheds or any such structure usually means something (hammers, enough nails, correct size 2x4s) was accidentally left out. For a group building project, be sure there is someone willing to run to the building supply store during the process so there's not too much waiting around time when inevitable delays appear.
Build playhouses as a fundraising project: The most obvious reason to turn sheds into playhouses is for the lucky kids' backyard. But they can also be great fundraisers. Portable garden sheds or playhouses have been set on trailers and taken to festivals where raffle tickets were sold.
---
Custom Search